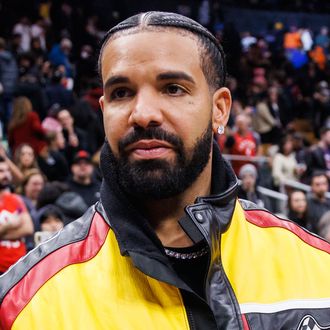 Never tell him the odds.
Photo: Cole Burston/Getty Images
Drake, we know you'll do anything to get your name close to Rihanna's name, but this is a bridge needy rap verse too far. The Canadian man is getting his nose into America's game. Drake has placed just under $1 million in bets on 2023's Super Bowl LVII, which is on Sunday, February 12, and will see favorites the Philadelphia Eagles facing off against the underdog Kansas City Chiefs. "Pls do not analyze the logic behind these bets there is none," Drake said when he posted his bets on Insta. Obviously, Drake, but we're doing it anyway. His most notable bet is $700,000 on the Chiefs, who, like himself, famously started from the bottom.
Other bets include a $50,000 one that the Chiefs will not only win the whole game, but that they'll win both halves; $50,000 each on Patrick Mahomes and Juju Smith-Schuster scoring touchdowns; and $60,000 that the MVP will be a tight end. In total, the man who needs to keep Keke's name out his fucking mouth spent $965,000 on Super Bowl bets. Other things he could have bought with that money: about 35 Birkin bags — or, like, two really nice ones — 4.8 percent of Justin Bieber's song catalogue, or 38 of Frank Ocean's cock rings.