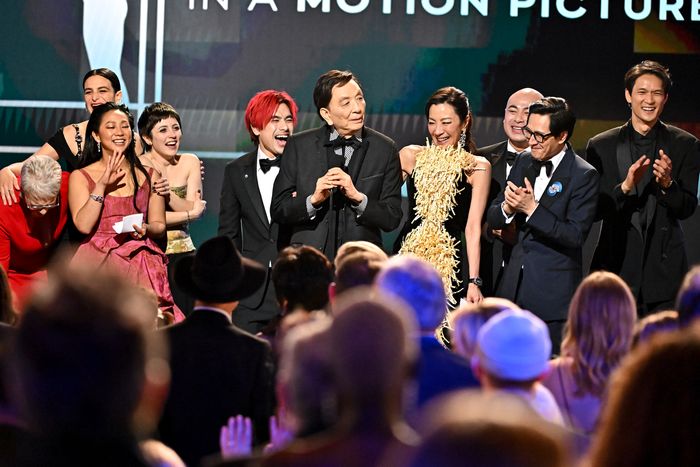 The cast of
Everything Everywhere All at Once
celebrates their SAG win.
Photo: Michael Buckner/Variety via Getty Images
Is there a universe in which Everything Everywhere All at Once doesn't win Best Picture?
The theory of the infinite multiverse suggests there must be a few alternate realities where the Daniels' live-action Looney Tune goes home empty-handed on Oscars night, including at least one in which Minions: The Rise of Gru triumphs instead. But in our timeline, the film's title succinctly sums up its awards trajectory so far. It's won almost everything everywhere, if not quite all at once, then at least on consecutive days.
With less than two weeks to go before the Oscars ceremony, the A24 multiverse comedy made a huge demonstration of strength over the weekend, first winning the top honor at Saturday's Producers Guild Awards, then sweeping Sunday's Screen Actors Guild Awards. Each of these individually would be a plumb prize for any awards hopeful: PGA because it uses the same preferential ballot the Oscars do; SAG because it represents actors, the Academy's largest branch. Throw in the Daniels' trophy for feature directing at last weekend's Directors Guild of America Awards and EEAAO has taken home the triple crown of industry precursors. That's a haul only the heaviest of Oscars hitters obtain — in the era of the preferential ballot, just Birdman, Argo, and The King's Speech have done it. It's the kind of thing that makes you ask not whether a film can win Best Picture but how many other trophies it'll nab along the way.
On that front, Supporting Actor is a near lock and Best Director likely as well. Additional wins in Editing and Original Screenplay are real possibilities, as is Actress after Michelle Yeoh's victory at SAG. Stealing Costume Design from Elvis isn't out of the question since Everything Everywhere not only features its own Elvis jumpsuit but dozens of other eye-popping looks besides. And if Oscars voters truly are as gaga for the film as they appear, Stephanie Hsu or newly minted SAG winner Jamie Lee Curtis could overcome vote-splitting concerns to take Supporting Actress. Why not dream big?
There are nearly infinite reasons why this was not the way the race was predicted to go. Before we even get to the content of the film, EEAAO was a spring release from an indie studio bearing none of the prestige trappings of a traditional Oscar front-runner. Its directors had made only one prior feature together and it starred a farting corpse. This one is a universe-spanning genre pastiche in which a nihilistic lesbian fashions lethal weapons out of a pair of dildos.
And yet, as the season went on, Everything Everywhere became undeniable. Even before its big wins, the awards strategists I surveyed conceded that the film would be hard to beat. Like last year's winner, CODA, it's a warm family dramedy that sends viewers out on a high note. Although the film takes place in a number of different realities — one in which humans have hot-dog fingers, another in which there's no intelligent life whatsoever — its most important one is the universe where the world can be saved with a hug. The way to an Oscars voter's ballot is through their hearts, and nearly a year after its release, the passion for this film hasn't dissipated. I know people who have gone to see it four times. You probably do too.
Just like another recent winner, Parasite, Everything Everywhere is truly not like anything else in the race. In comparison to dour titles like Tár and Women Talking, it's pitched as a good time; while the rest of the field is lily white or blue, its tale of financially struggling Chinese immigrants stands out even more. And in a season when most of the fall contenders stumbled at the box office, it surely doesn't hurt that EEAAO was a rare theatrical success story. As 94-year-old cast member James Hong said onstage at the SAG Awards, when he was starting out, leading Asian roles had been played by white actors in yellowface: "Producers said Asians are not box office. But look at us now!"
So far, with Oscars voting only days away, Everything Everywhere's sheer weirdness has inoculated it against the front-runner's curse. Only one film, Apollo 13, has ever lost Best Picture after winning DGA, PGA, and SAG. But as a strategist put it to me recently, we live in a world where precedent is being overthrown every year. Like everything else, EEAAO does have weak spots. Its fan base skews young and progressive, and as its poor showing at the BAFTAs demonstrates, the European voting bloc may not be fully onboard. Plus it just so happens there's a film out there that appeals to both the "meat and potatoes" members and the international voters: All Quiet on the Western Front, which wasn't nominated at the guilds but beat EEAAO outright at the BAFTAs. Are we secretly living inside a reboot of the 2020 Best Picture race, when the season ultimately came down to a WWI movie against a genre-bending indie with a predominantly Asian cast?
That might be daydreaming, something Michelle Yeoh's EEAAO heroine knows all too well. For half a year, we've speculated about which heavyweight could bring this underdog down. First it was The Fabelmans, then it was The Banshees of Inisherin, and now it's All Quiet's turn. None of them has managed to land a significant blow. Right now, it appears they're destined to end their journey the same place Evelyn Wang's begins — mourning all the possible futures that didn't come true. Have they tried verse jumping?