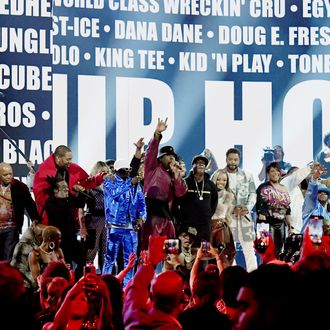 Almost everyone in hip-hop.
Photo: JC Olivera/WireImage
Look, the Grammys don't have the best track record with hip-hop (just ask Tyler, the Creator). But still, it is self-designated as "music's biggest night," which means that its tribute to 50 years of hip-hop can be pretty moving. Beginning with narration by Black Thought, then transitioning into three separate chapters, the performance, curated by Questlove, covered as much ground as it could in a short amount of time. The acts, including Salt-N-Pepa, Nelly, and Too $hort, each received a quick few bars of their iconic hits before the show moved along in an attempt to create a somewhat comprehensive version of the genre's history. Perhaps the best part was not the performances themselves but the shots of the various celebrity Grammy attendees dancing along — although Big Boi swearing so much that half his performance was unaired was good too. And Busta's speed-rap from "Look at Me Now," sans Chris Brown. We salute you, Mr. Rhymes. Missy Elliott brought the energy up to an 11, as she is wont to do. Lil Baby brought the Big Boi energy (by getting bleeped multiple times). Then, GloRilla showed Luxx Noir London and the world what 40 inches looks like. A hundred more years of this, please!