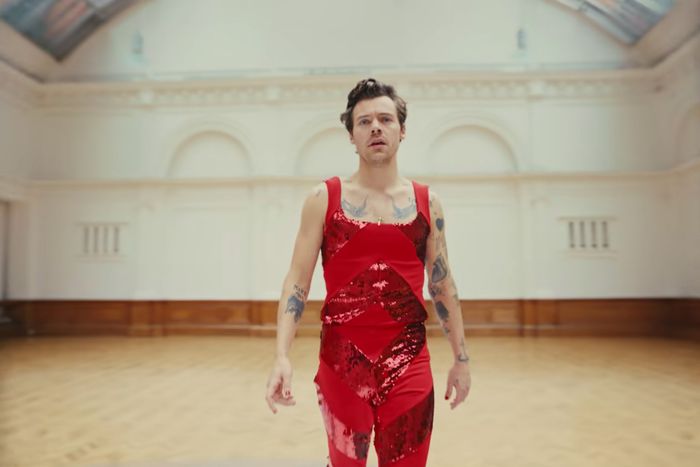 Adele turned out to be the least of Beyoncé's worries. On Sunday evening, it was a different British pop star who stood between her and her first Grammy for Album of the Year: Harry Styles. Anyone other than Bey winning would've been met with some level of vitriol — especially after the Grammys spent the entire night hyping AOTY, and especially after she became the winningest artist in the Recording Academy's history earlier in the ceremony. But this one was particularly painful to swallow. Styles won on his first AOTY nomination for his third (solo) album, Harry's House, a pleasant but too comfortable set of songs influenced by '80s synth pop and classic rock. The speech that followed was noticeably awkward with Styles acknowledging there was "no such thing as best in music" despite winning a trophy that attempted to judge just that. Beyoncé, on the other hand, added a fourth snub for the top honor to her career, this time for Renaissance, a spectacular, holistic project celebrating Blackness and queerness that many critics had already declared the record of 2022.
With ten AOTY nominees in total, we can dream up innumerable explanations for who siphoned off votes from Beyoncé this time. (That's never felt like more of a fool's errand, though; if Mary J. Blige, Kendrick Lamar, or Lizzo stole votes from her, why didn't the same happen to Styles with ABBA, Adele, or Coldplay?) It also feels beside the point to argue whether Styles deserved AOTY over Beyoncé — we've done that with her past two snubs for Beyoncé and Lemonade, and the answer remains a resounding "yes." All that matters is that the Recording Academy clearly thought he did. Let's speculate why.
Harry's House is right in the Academy's sweet spot.
"This doesn't happen to people like me very often," Styles said in his acceptance speech, a sound bite that was instantly criticized. (Maybe he was referring to being a former boy-band member; that doesn't change it coming across as insensitive.) He's obviously not just wrong from a race and gender standpoint — he's wrong musically. Harry's House is exactly the sort of old-fashioned sonic throwback the Academy likes to hear, and voters have proved that up and down the ballot the past few years. (Styles said the record was named after a 1973 Japanese album called Hosono House, but it couldn't have hurt that there's a Joni Mitchell song called "Harry's House" either.) On top of that, Styles had the "most personal album yet" angle going for him with interviews about how the pandemic and his mental health influenced the record.
Additionally, Styles's creative approach lined up with one of the more conservative nights in Grammys history. Bonnie Raitt won Song of the Year for "Just Like That," a track she wrote by herself and performed with little more than a guitar. A jazz singer, Samara Joy, took Best New Artist (the second jazz BNA win in less than 15 years, if you can believe it). And Lizzo, the other big pop star of the bunch, won Record of the Year for the overly obvious '80s throwback "About Damn Time" — which, if the guitar riff didn't give it away, directly name-checks its template, Diana Ross's "I'm Coming Out," in the bridge. At this point, backward-looking wins aren't exceptions from the Grammys but the rule. Last year's AOTY winner, Jon Batiste, is a wildly talented musician who plays multiple instruments but had been mainly known as Stephen Colbert's bandleader before the Grammys gave him 11 nominations in seven different fields. Record and Song of the Year, meanwhile, went to lab-made Grammy bait: Bruno Mars and Anderson .Paak's exacting pastiche of a '70s R&B sex jam, "Leave the Door Open." Look at some of the other Grammy darlings of recent years: H.E.R. is a rare R&B singer-songwriter who plays guitar, Billie Eilish and Finneas make all their songs independently, and Brandi Carlile has earned Grammys gold as a performer, songwriter, and producer alike. Styles, too, plays guitar and co-writes his own songs, and his album features one of the smallest nominated teams of the night — just three producers and six songwriters total. In the Academy's eyes, doing something yourself shows more sheer talent than tapping a collaborator who could make it even better.
The Academy doesn't understand Black genius.
Renaissance may have been the AOTY nominee most interested in music history with a syllabus's worth of homage to dance music. It just came in a form the Grammys have never valued: sampling. The practice of pulling, looping, and reimagining part of one song for a new one began in hip-hop, a genre the Academy continues to have an exceptionally poor track record with, especially in the generals. It falls into the larger history of Black music, which has prized collaboration since the Motown era, an approach not in line with the Academy's vision of genius. Just look at H.E.R., Batiste, Joy, and Lizzo — along with other Academy favorites such as Black Pumas and Gary Clark Jr. — who turn backward for their inspiration rather than forward (or, in the case of Beyoncé, turning backward to say something entirely new). Yes, reclaiming Black musical history is an important project, but it's pointed when the predominantly white Academy opts to keep Black musicians in the past rather than honoring present innovators like SZA, who won her first Grammy only last year. Conversely, Harry's House was one of the whitest albums up for AOTY, from its influence to its sound to its credits (even Adele's and Coldplay's albums featured musicians of color).
The first nail in the coffin for Renaissance may have come soon after it was released, when fans, critics, and musicians got tied up in discourse around what role sampling should play in songwriting. Dance voters saw right through that misguided discourse, giving Beyoncé both of their awards. But more Academy voters are probably like Diane Warren, who wondered out loud shortly after Renaissance's release why a song like "Alien Superstar" needed 23 writers, unaware that over half of those were due to (judiciously used) samples, a cornerstone of dance music. (Remember, the only electronic album to win AOTY, Daft Punk's Random Access Memories, had just one sample — and was credited not to a singer but a duo of white producers.) It didn't help that some of the artists Beyoncé sampled, including Kelis and Right Said Fred, took issue with their roles in the album, stretching out the outrage cycle and giving the semblance that Beyoncé's acts of homage did harm. When Academy voters are giving Song of the Year to the only solo-write in the category, a feat of collaboration like Renaissance doesn't stand a chance.
Styles had an inescapable year.
You couldn't go to the movies, turn on the radio, or open TikTok in 2022 without encountering Harry Styles. He stretched Harry's House into a highly visible press cycle, leading Rolling Stone to dub him "the world's most wanted man" in a cover story months after the album was out. After kicking the record off with "As It Was" last March, Styles proceeded to headline Coachella with help from stars past (Shania Twain) and present (Lizzo). Then, when the record came out in May — logging over a half-million units, the second biggest week of the year behind Taylor Swift's debut for Midnights — Styles hit the road. He played nearly two dozen concerts across the pond before heading Stateside, where he made headlines via marathon residencies in New York City, Chicago, Austin, and Los Angeles. Whether playing your own instruments or writing your own songs, the Academy likes to see an artist put in the work, and what is sweating it out onstage night after night if not that?
Styles had a hold on the charts as well with "As It Was" logging a record five separate runs atop the "Hot 100," from its No. 1 debut in April through September. As it faded out, Styles and his team teed up hits in waiting "Late Night Talking" and "Music for a Sushi Restaurant," both of which hit the top ten. (It's a little surprising "As It Was" didn't earn any hardware, but the wins for Harry's House seem to be in recognition of the album as a body of hits.) After the Academy was criticized for giving Batiste's We Are, an album without a single top-40 hit, AOTY last year, Styles's project gave them the opportunity to be on the pulse at no expense of its perspective.
There was also Styles's turn at the box office — and in the tabloids. He starred in one of the most talked about films of the year, Don't Worry Darling, along with another, My Policeman. In the process, he got caught up in a PR firestorm around his Darling director, girlfriend, and Harry's House muse Olivia Wilde, following her split from Jason Sudeikis.
Beyoncé couldn't match the media frenzy. Yes, Renaissance was a long-awaited comeback, even netting her first solo No. 1 in over a decade for "Break My Soul." But while fans and critics vocally supported the album, she kept a relatively low profile. Distrustful of the press (rightfully, after her early career), she didn't do any interviews and didn't announce a tour until the week before the Grammys, long after voting had ended. And after a decade of visual-forward rollouts, Beyoncé has yet to release any music videos for Renaissance, saying she wanted fans to have "the opportunity to be limitless in their expansive listening journey" without distractions like visuals. But, if it's not painfully obvious by now, the Academy doesn't care about what works for the fans.
Below-the-line voters love Styles.
If the Oscar for Best Picture is won branch by branch, maybe Album of the Year is too. Since the Grammys expanded the award to go to all involved songwriters, producers, engineers, and featured artists, a winner needs to command respect from multiple branches. Batiste did it across genres last year, seeming to pull voters from the R&B, jazz, and American-roots fields, among others. This year, Styles appeared to have the votes of the below-the-line members who make up a good chunk of the Academy. He was the only AOTY nominee to also show up in Best Engineered Album (a category that also loves, among others, past AOTY surprise Beck) and proceeded to win there; his album also ended up one of the only snubs for Renaissance, in what should've been an easy nod for an album that places such a high emphasis on mixing. In the new Songwriter of the Year award, two of the five nominees had cuts on Styles's album, including the eventual winner, Tobias Jesso Jr. Renaissance co-writer The-Dream also showed up in that category but may have been penalized for being better known as a performer and producer compared with Jesso and Amy Allen, who made their careers pen first.
In the end, Beyoncé's voting bloc was just smaller. She likely had a swell of support from the R&B field, which has had her back throughout her career, along with the Dance field, which isn't nearly as influential in the generals, judging from the historical lack of dance nominees there. This is all also tied up in some of the problems mentioned above — the production and engineering fields have a poor record of recognizing people of color, and as with Raitt's win, technicians and writers may have been more impressed that Harry's House was such a, well, in-house effort.
Beyoncé breaking the win record was enough.
Beyoncé's potential to pass conductor Georg Solti for most Grammys ever won was well-publicized before the show. How many Academy voters figured that breaking the record down the ballot would be a big enough recognition for Bey and that they could give top honors to other musicians? Except that, of course, opens up its own question: How much does Beyoncé breaking that record really mean if she still can't reach the height of AOTY?
There's a more speculative, even more disappointing possibility here, too. The Academy showed yet again this year that it's not beholden to mainstream impulses and discourse. Could especially older voters be holding a grudge against Beyoncé for the ongoing criticism over never giving her Album of the Year — possibly even seeing her, in a heavily racialized way, as ungrateful or arrogant? Beyoncé's AOTY narrative has mostly come from fans and writers, though she has silently protested the awards since her last 2017 AOTY snub, not performing since then and skipping the ceremony outright in 2019 and 2020. (Her husband, Jay-Z, who joined her in skipping those two years, has been more vocal in his criticism of the Grammys but attempted an olive branch this year by joining DJ Khaled's "God Did" performance.) Earlier in the show, Beyoncé made clear how much she still respects the Grammys, becoming visibly emotional as she accepted her record-breaking 32nd Grammy win for Best Dance/Electronic Album. It may have just been too little too late.
This story has been updated.