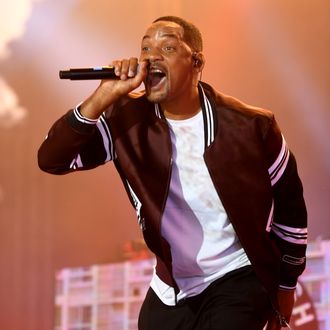 Bad boy Will Smith.
Photo: Ian Gavan/Getty Images
If you asked the nice folks at the Recording Academy, they'd probably say the first rap Grammy szs a big deal in hip-hop history. But at last night's monster tribute to the 50th anniversary of hip-hop, one of those first winners didn't perform: Will Smith, who won Best Rap Performance in 1989 for "Parents Don't Understand" with DJ Jazzy Jeff (who was there and scratched the hell out of "Rock the Bells"). Smith's absence wasn't for lack of trying, the segment's music director, Questlove, revealed before the show. "I'll give the spoiler alert away," he told Variety on the red carpet. "Will Smith was a part of the festivities tonight, but they started shooting Bad Boys 4 this week," Questlove said. Indeed, less than a week ago, Smith confirmed he was reuniting with Martin Lawrence for the movie. But, conveniently, that also got the Grammys out of being the first awards show to welcome back the slap-happy performer — and got Questlove out of an awkward run-in after Smith's slap impeded on his own Oscars acceptance speech last year.
Smith wasn't the only one to drop out of the performance. Lil Wayne and Future were initially announced as part of the lineup, but neither got on the mic — part of why the tribute was light on the aughts, the 2010s, and the entire city of Atlanta. And speaking of the first rap Grammy, J.J. Fad, a group nominated for their song "Supersonic" in 1989, revealed on Twitter before the tribute that they weren't invited. "Make that make sense!!" they wrote. Well, welcome to the Grammys.