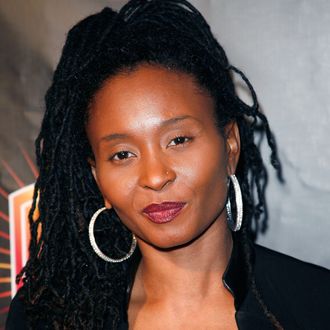 Dee Barnes.
Photo: Paul Archuleta/FilmMagic
Hip-hop businessman Dr. Dre received the Grammys' inaugural Dr. Dre Global Impact Award on February 5, an honor given to an individual for their remarkable achievements in the music industry. Dee Barnes — a journalist and rapper who says she was assaulted by Dre in November 1990 — thinks it's odd (to say the least) that the Grammys named the award after him. "Most people without a knowledge of [Dr. Dre's] history are going to say, 'Oh, he must deserve that. He must be such a great person for them to put an award in his name,'" she wrote in a Rolling Stone op-ed published February 8. "But they named this award after an abuser." The Recording Academy's Black Music Collective, a group formed after 2020's attempt at a racial reckoning, debuted the Global Impact Award in 2022 and rechristened it after the West Coast rapper this year. "To name an award after someone with that type of history in the music industry, you might as well call it the 'Ike Turner Award.'"
Dr. Dre apologized to "the women I hurt" in a statement to the New York Times after Barnes spoke out against the 2015 Straight Outta Compton biopic expunging his violent past. Barnes argued that the apology doesn't mean the Recording Academy and the hip-hop community has reckoned with Dre's abuse. Though the MC chronicled the genre's early history with her Fox show Pump It Up! from 1989 to 1991 at just 19 years old, she said the community turned its back on her after Dre threw her down a flight of stairs, kicked her, and slammed her head against a wall at a Bytches With Problems record-release party on January 27, 1991. While Dre went on to earn millions even after he was charged with abuse and pleaded no contest to assault and battery, the same rosy future couldn't be said for Barnes. Her position in the hip-hop scene suffered after the attack in what she calls a "blacklisting," an experience that resulted in career stagnation and three years of being unhoused. "There's a whole network to keep me hidden," Barnes wrote, so as to not make Dre "look bad."
"I'm not the bad guy, but I am made into the villain — very much like how they did Megan Thee Stallion during the trial against her attacker, Tory Lanez," Barnes added. "I watched what happened to my little sister Megan, and it just was heartbreaking to me because we have not changed in all these years." She claimed Dre refused her offer to sit down on-camera and "hash it out." "I think that's going to be the only thing to turn the tide, so to speak — if we have a come-to-Jesus moment in person, in public." The Grammys didn't have the come-to-Jesus moment — like in Straight Outta Compton, Dre's alleged abuse was erased from the ceremony. Vulture reached out to the Recording Academy for comment.