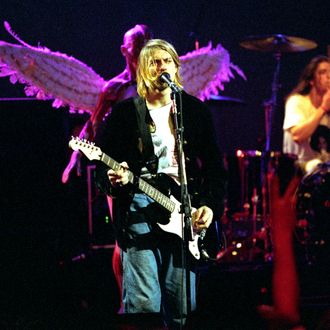 Nirvana is one of the night's honorees.
Photo: Jeff Kravitz/FilmMagic, Inc
On the night before the Grammys, the Recording Academy will honor those special musical icons for their achievements in the music industry. The Recording Academy's Special Merit Awards honors technical and creative achievements from the music industry tonight as an appetizer before the main event tomorrow evening. Returning for the first time since 2020, this year's recipients for the Lifetime Achievement award include Bobby McFerrin, Nirvana, Ma Rainey, Nile Rodgers, Slick Rick "The Ruler," The Supremes, and Ann Wilson and Nancy Wilson of Heart. Other awards during the ceremony include the Trustee Award for significant contributions in music, not including performance, which will be received by photographer Henry Diltz, music educator Ellisa Marsalis, and Stax Records founder Jim Stewart. Lastly, the Technical Grammy Award will be presented to the Audio Engineering Society and Dr. Andy Hildebrand for their accomplishments in the technical work of music.
While there will not be broadcasted event, the ceremony will take place in person at the Wilshire Ebell Theatre in Los Angeles tonight, February 4.