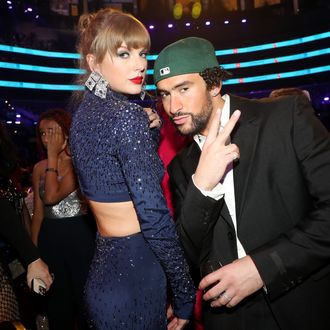 Miss Americana and the Puerto Rican Prince.
Photo: Johnny Nunez/Getty Images for The Recording Academy
It seems like even the celebs have been thwarted in their attempts to get Eras Tour tickets, because they all used the 2023 Grammy Awards as an excuse to get a pic with Taylor Swift. Everyone from host Trevor Noah to surprise Song of the Year winner Bonnie Raitt posed with Director Swift. Noah roped Swift into some on-camera banter before introducing the 50 Years of Hip-Hop tribute performance and the inaugural Dr. Dre Global Impact Award. Asked if Swifties could do anything about the price of eggs, Swift told Noah that there's nothing her stans can't do. She also posed with Bad Bunny, chatted with Beyoncé, and tippled with Jack Antonoff (and Jack Antonoff's RFK for Senate pin). Swift won a Grammy for Best Music Video for "All Too Well: The Short Film" — the first Grammy for a video she's directed. "I can't put into words what this means to me," she tweeted after winning the award. "For the @RecordingAcad and my peers to acknowledge me as a director, and in doing so, acknowledge my work to try and reclaim my music … I'm blown away." Below, Taylor Swift and her horde of fans (who happen to have hordes of fans themselves).
Swift took hella photos with Bad Bunny, but also made time to party with his backup dancers. We love a multitasker!
Pictured above: Pharrell Williams begging Swift to tell him which song off Midnights will be the next single. But she'll never tell.
Tayla and SZA took this prom-esque photo while mentally preparing themselves to duke it out over several categories at next year's Grammys. Midnights and SOS have both been huge commercial and critical successes in 2022, so it stands to reason these gals will be the Beyoncé and Harry Styles of 2024's Grammys.
Latto, meanwhile, is collecting legendary-pop-star relationships like infinity stones, with her collaboration on "Big Energy" with Mariah, her feud with Nicki Minaj on Twitter, and now a pic with Swift at the Grammys. Next she should attend a fashion show with Céline Dion; they'd probably get along.
Speaking of Beyoncé, Swift had a quick chat with the most Grammy-winning artist of all time. On what topics, we can never know. Perhaps how B could run into traffic long enough to miss her first award of the night. Or maybe just venting about Ticketmaster, who knows?
Why does Swift look like she's forcing Jack Antonoff to FaceTime his grandmother in this picture? Thank Meemaw for the sweater, Jack. She knit it herself.
Bonnie Raitt's win for Song of the Year may have made the PopCrave girlies go, "Who?" But Taylor Swift definitely knows her. "Let's give them something to talk about," Swift can clearly be seen saying to Raitt in the above photo.
After the Grammys, Swift held her own after-party, which was attended by music folk from across genres, including MUNA. There's actually no filter on this picture. MUNA just travels with a lavender haze of their own.
Murray Bartlett knee toucher Troye Sivan posted a pic with the "Snow on the Beach" crew. Is this the multi-gender music-business conference we've been hearing so much about?
Fletcher and Kelsea Ballerini posed with Swift and tagged Elvis director Baz Luhrmann in the post — did this visual expert take the photo? Also, Fergie commented "Hii it's your mom. :) You are all past curfew. Please come home and tell me everything !!!🤣🤣" Come on guys! It's time to support that "M.I.L.F. $."
Hayley Kiyoko posed with her girlfriend, Becca Tilley, and Swift, leading us to wonder: Has Taylor Swift seen Lemonade Mouth?
This post has been updated.