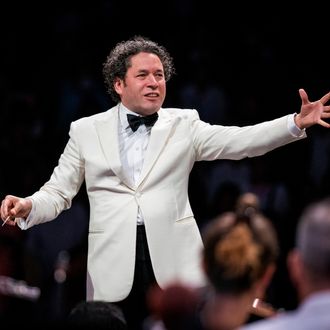 Photo: Jason Armond/Los Angeles Times via Getty Images
Gustavo Dudamel, orchestral music's global icon of Southern California cool, is moving to New York — eventually. In coordinated announcements on opposite coasts just now, Dudamel told the players of the Los Angeles Philharmonic that he would be stepping down as music director. At the same moment, New York Philharmonic president Deborah Borda announced that Dudamel had accepted the job as that orchestra's artistic director.
The new regime won't start for a while; popes and presidents are chosen more quickly and casually than maestros are. The current New York music director, Jaap van Zweden, will hold the post until June 2024, after which comes a year of guest conductors and a leaderless interregnum. Dudamel becomes music-director designate in fall 2025 and won't be formally installed as artistic director until the following year, even though the planning work starts now. Still, it was a relatively quick and narrow search, Borda said: "When you're pursuing the most sought-after conductor in the world, you have to do it a bit differently. The musicians said, 'We want Gustavo Dudamel,' so at that point, you become a heat-seeking missile. And I'm thrilled. It's potentially a new golden era for the New York Philharmonic."
Dudamel arrived at the L.A. Philharmonic as a 26-year-old sensation from Venezuela; he will leave it 17 years later as a revered figure. The move may also finally put to rest decades of New York's classical-music West Coast envy. In the 1990s, Esa-Pekka Salonen in Los Angeles and Michael Tilson Thomas in San Francisco made California the most vibrant and progressive orchestral scene in the country, where incandescent, colorful performances of Stravinsky, Mahler, and Ives shared programs with freshly written music by John Adams, Salonen himself, and dozens of other composers. Walt Disney Hall, designed by Frank Gehry, opened in L.A. in 2003. Borda ran the L.A. Philharmonic for 17 years, building a reputation as a virtuoso executive who could combine adventure and solvency. In 2009, she hired the dewy and newsworthy Dudamel to succeed Salonen.
Whatever pockets of stale air might have hung around the L.A. Establishment seemed to blow away with his arrival. He showed up with a big grin, a whorl of explosive curls, and a talent for making one earth-shaking climax sound like preparation for the next. He championed Latin American composers, founded the Youth Orchestra of Los Angeles, launched the Pan-American Music Initiative, conducted John Williams's score for Star Wars: The Force Awakens, and made cameos in The Simpsons and Mozart in the Jungle. Just last month, he joined the music directors of the San Diego and San Francisco Symphony Orchestras to found the California Festival: A Celebration of New Music, which he'll inaugurate next November. He has done all of this without seeming dutiful or awkward, a frequent liability even for young maestros who try to endear themselves to their fellow kids.
Now the Old Coast is catching up. Borda moved to the New York Philharmonic in 2017, bringing a gust of California can-do positivity. (She steps down in June, handing the reins over to her successor, Gary Ginstling.) Under her leadership, the orchestra opened its new (well, renovated) hall, and commissioned 19 new works by 19 women composers. And now Borda has nabbed Dudamel a second time.
His appointment doesn't automatically make Lincoln Center the hot spot of orchestral innovation. As an interpreter of standard repertoire, Dudamel shares van Zweden's penchant for revved-up excitement at the expense of subtlety. As an ambassador of the arts in Latin America, he has sometimes been clumsy: In 2016, he irked a fellow Venezuelan, the pianist Gabriela Montero, by declining to condemn Hugo Chávez. In L.A., he has taken frequent and obvious pleasure in conducting at the Hollywood Bowl, where audiences of 18,000 can listen outdoors in an atmosphere of unstuffy relaxation. In New York, he'll have more of a challenge breaking out of Geffen Hall. The Philharmonic performs a few summer concerts in city parks, but it lacks a base from which to launch a populist campaign for high art.
The sense of occasion that accompanies most hires — the drawn-out search for the perfect match and the geological tempo of transition — contributes to the deliberate pace of change in the orchestral world. Stars are forged over years, reputations get refined slowly, and a 45-year-old (the age Dudamel will be when he leads his first official opening night at Geffen Hall) is considered young. Dudamel didn't so much bypass all of that as get an early start. As a teenager, he led the ensemble he had grown up in, Venezuela's Simón Bolívar Youth Orchestra, so he already had a decade's worth of experience — and knew many of the core symphonies by heart — when his peers were getting their first paychecks. By now, he's a seasoned artistic leader who has hired players, weathered contract negotiations, laid long-term plans, raised money, and performed all the practical and ceremonial duties required of a cultural figure in a major city.
His departure from the West Coast opens the door for the L.A. Philharmonic to lead again, this time perhaps by appointing the first woman to lead a top-tier orchestra. The Finnish conductor Susanna Mälkki is already its principal guest conductor, and her name has periodically cropped up on speculative shortlists, her odds increased by regular guest appearances such as the one she will make in New York next month. In a sense, Dudamel's appointment at Geffen Hall highlights the agonizingly slow pace of advance for his female colleagues. Very few men and essentially zero women leap straight from postadolescence to a world-class podium. Dudamel did in the early aughts; Klaus Mäkelä has done so more recently. Most other conductors spend the first decade or so of their careers climbing through regional orchestras and minor opera companies. Just about every time a female conductor gets a job, she's the first woman to hold it. Only Lydia Tár has broken through, and she doesn't exist. The Philharmonic dangled the hope that it might provide one of those firsts by scheduling a spring slate of women maestros but then reverted to the seemingly foreordained choice.