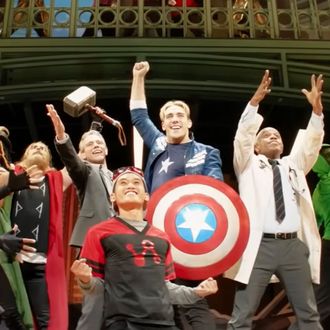 Vibranium? Honey more like vibrato-um.
Photo: Marvel
Comic-book nerds, theater kids, Disney adults: Assemble! Disney is creating a whole new theme-park attraction just to roast Julie Taymor and Bono. Today, the company announced that it's adapting the fake Captain America musical from Hawkeye into a real, live stage production that will debut at Disney's California Adventure Park in Anaheim this summer. In the Disney+ and Marvel series, Jeremy Renner's Hawkeye watches a cheesy Broadway production called Rogers: The Musical that turns Cap's life into a misguided musical extravaganza full of triple threats belting and grand jété-ing their way through famous moments from The Avengers's climactic Battle of New York.
The artwork outside of the theater is a riff on Hamilton, because in the MCU, the events of The Avengers are U.S. history. But what we see of the show, with its electric guitar wailing and cardboard comic-book sets, is clearly referencing Julie Taymor's failed blockbuster superhero musical, Spider-Man: Turn Off the Dark. It's as if Disney is thumbing its nose and saying, "Nice try, but leave any and all Marvel adaptations (and family-friendly musical numbers) to us."
In Hawkeye, Marc Shaiman and his co-lyricist, Scott Wittman, riff on Bono and the Edge's Spidey music with the track "Save the City," and they're possibly winking at their own musical-within-a-show when the Hulk sings, "Smash! Smash! Smaaaaaash!" Shaiman and Wittman will most likely have to compose more original songs to pan out the "short, one-act musical," but based on the 1940s styling of the announcement video, complete with Peggy Carter, the odds are good that the show will include Alan Menken's fake USO number "Star-Spangled Man" from Captain America: The First Avenger.
The California Adventure Park production will debut for a limited run this summer, but if you're desperately curious about what a live Rogers: The Musical looks like, Disney tested out the concept in December at its D23 Expo.
If this MCU live-musical concept is a success, we look forward to the Disneyland stage production of Groot! in 2024.