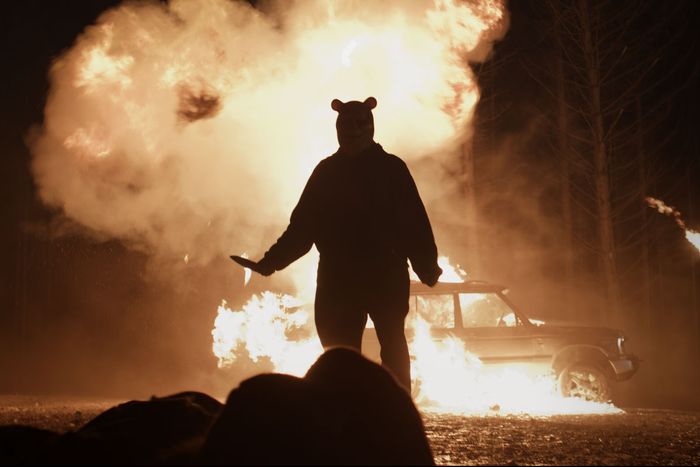 "Sometimes the smallest things take up the most room in your heart." –Pooh
Photo: Jagged Edge Productions
Hell hath no fury like a Winnie scorned. In the live-action, R-rated, childhood-nostalgia-desecrating schlock-horror-thriller Winnie-the-Pooh: Blood and Honey, A.A. Milne's erstwhile tubby little cubby all stuffed with fluff is repurposed as a Jason Voorhees–like maniac. One who sets out to avenge his abandonment in the Hundred Acre Wood — by a college-bound Christopher Robin — with the help of Pooh's partner in savagery, a tusk-toothed, sledgehammer-swinging Piglet. The feral duo go cannibal on Eeyore before turning their murderous attention to any humans in the vicinity. As the bodies pile up, so do the slasher-movie tropes: jump-cut scares, good-looking people getting picked off one by one from a secluded cabin, threatening text delivered via arterial splatter, death by wood chipper, a swimming-pool massacre. With no clear rationale for their savagery, the killing spree arrives as an aggrieved inversion of Pooh's famous saying: "Sometimes the smallest things take up the most room in your heart."
Since launching in theaters in Mexico on January 27, the British-produced micro-budget indie has taken in over $1 million: a more than 10X return on its reported "under $100,000" production cost. Hitting 1,500 U.S. theaters on Wednesday en route to a rollout across Canada, Europe, the U.K., Japan, Australia, New Zealand, and 1,300 Latin American screens, Pooh is now poised to become what Variety describes as "one of the most profitable movies in the last decade in terms of budget-to–box office ratio."
Viewed another way, however, Blood and Honey can be understood as moviedom's latest and perhaps foremost triumph of IP by trolling. Its British production company, Jagged Edge, specializes in shot-on-a-shoestring slasher reboots of classic nursery-rhyme, holiday, and mythological properties such as The Legend of Jack and Jill (as hillbilly horror), Curse of Jack Frost (with Christmas demon terror), Tooth Fairy: Drill to Kill (self-explanatory), The Curse of Humpty Dumpty (of the murder-doll genre) and Easter Bunny Massacre: The Bloody Trail. In January of last year, pretty much the moment intellectual rights to Milne's 1926 Winnie-the-Pooh stories collection entered the public domain — with Disney having lost exclusive rights to the work it has maintained for more than half a century — Jagged Edge's self-described "Terminator of producing" Scott Jeffries and partner Rhys Frake-Waterfield leapt at the chance to redevelop the material in a decidedly more sinister vein.
A photo from the production went unexpectedly viral in May. And ever since, Blood and Honey has benefitted from a kind of "This film is ruining my childhood; I must see it immediately" word-of-mouth buzz quite unlike that of other recent low-budget horror hits such as Barbarian, Terrifier 2, or Skinamarink. "We have 50 percent of the people who love it and are obsessed; the other 50 percent absolutely hate it. They think I'm the devil. I'm pure evil," says Frake-Waterfield, who marks his feature writing and directorial debut with Pooh. "There was a petition against us. There were death threats. People were trying to call the police on us at one point. So there have been loads and loads of haters. You have to be quite thick-skinned."
At the outset, Jeffrey (who, according to IMDb, has produced 114 films in the last eight years) and Frake-Waterfield (until a couple of years ago, a corporate strategist at a U.K. energy company who picked up filmmaking through "osmosis" from his college buddy and former roommate Jeffrey) were on a very short list of people who believed a horror-movie Pooh was just stupid enough to become a giant success. The two cobbled together half the movie's minuscule budget from their personal savings and funded the other 50 percent through frequent collaborator Stuart Alson at ITN Studios (the London-based distribution entity behind such genre fare as Demonic Plastic Surgeon MD, Rocket Hunter: Rise of the Nazi Komet, and American Cannibal).
They knew special care would have to be taken not to run afoul of the notoriously litigious Disney, which maintained rights to Milne's characters from 1966 to 2022 and still controls a copyright for Tigger (who was introduced in Milne's second book and has yet to enter public domain) in addition to aspects of the characters' appearances, such as Winnie's signature red T-shirt and Piglet's pink singlet. As such, any violation of trademark law in the Pooh slasher iteration could expect to be met with an immediate cease and desist. "Take the 1926 book and that's all you're allowed to work off of," says Frake-Waterfield. "You can't watch any of the cartoons. The game of Poohsticks — that's not in the 1926 book so that can't be in our version because if we did, that would still be under the ownership of Disney and we'd be encroaching on their brand."
But even with their legal ducks in a row, and Winnie and Piglet upgraded for grindhouse cinema — the anthropomorphized animals would have hands because "How do you grip a knife with a paw?" — enlisting cast and crew proved more challenging than their previous projects. Below-the-line crew members who had worked on other Jagged Edge productions refused to sign on, claiming the gruesome repurposing of such an established children's character was a step too far, leaving the filmmakers to hire "fresh out of university" workers, some of whom had never set foot on a film set before. Experienced actors were similarly reluctant to commit. "When you hear 'Winnie-the-Pooh horror film,' a lot of people think 'B-movie trash.' They think: 'It's stupid rubbish and it's not going to do well. And it's just basically a waste of my time because it's not going to get distributed,'" says Frake-Waterfield. "So it took a long time to find people who were willing and could see the potential. They thought it was going to bomb so they just wouldn't agree to do it."
Filming took place over ten days in 2022 with East Sussex's Ashdown Forest standing in for the Hundred Acre Wood. Budget restrictions required entire sequences to be choreographed on the spot, such as an indoor swimming-pool axe-murder scene (the ceiling was so unexpectedly low, Chris Cordell, the actor portraying Piglet, was forced to split his victim's skull with a sidearm strike rather than a top-down attack). Another character is seen being fed into the aforementioned wood chipper simply because the filmmakers came across the mulching equipment while filming at a rented farm location. "It makes a really interesting death," explains the director, who produced the film, oversaw its VFX, and operated camera drones in addition to having written Blood and Honey.
Once principal photography wrapped, the film's creative quorum expected a straight-to-DVD release in keeping with so many other Jagged Edge-ITN collaborations before it. But around Memorial Day, when that shooting still featuring Pooh (Craig David Dowsett) and Piglet hovering ominously behind a bikini-clad woman (Natasha Tosini) exploded across Twitter, Blood and Honey's fortunes changed rapidly. It led to a deal with Fathom Events, the specialty distributor known for movie-theater broadcasts of ballet, opera, and Broadway stage shows in addition to multiplex releases of anime, classic movies, and faith-based content such as The Chosen and Left Behind franchises. "This thing had blown up on social media and we were following it. That's why we acquired it," Fathom chief executive Ray Nutt says of Blood and Honey. "All over social they're chattering about Winnie-the-Pooh: some good, some bad. But all of that's good in my opinion because they're all going to gather in the movie theater."
Although hate-watching is sure to become an inextricable component of the Winnie-the-Pooh: Blood and Honey experience, early reviews have taken issue with the movie's shoddy production values, perceived low-quality acting, and general dourness more than its transgressive treatment of a childhood icon. A Blu-ray.com review calls the movie a "dreary viewing experience with slapdash technical credits and no discernible story." Australia's flicks.com, meanwhile, heaps on faint praise, congratulating Blood and Honey for being "taut and trim, visually algorithmic but engineered with just enough sizzle to satisfy its unfussy target audience." Adds another reviewer on Letterboxd (echoing a common critical refrain): "I feel like for what it's trying to be … this should have been more fun."
Given the movie's tiny negative cost and relatively robust box-office performance to date, it is too late for bad word of mouth to significantly erode its bottom line. Moreover, a Pooh sequel is already in the works, as is Jeffrey and Frake-Waterfield's next exercises in IP trolling: Peter Pan's Neverland Nightmare, another bizarro inversion of a children's bedtime story set to feature a "heavily obese" Tinkerbell who's also a recovering drug addict, and Bambi: The Reckoning, in which America's favorite fawn is reimagined as a "vicious killing machine that lurks in the forest."
"Now and again, I laugh because I think, What have I made? This is ridiculous," Frake-Waterfield says with a laugh. "This was a concept which I really, really believed in and really wanted to direct. And despite having a lot of challenges because not a lot of people believed in it and they didn't think it was a good idea, thought it was going to bomb and that I was wasting my money, blah, blah, blah … it's really nice now that it's expanding and doing well. Investors are now starting to contact us!"