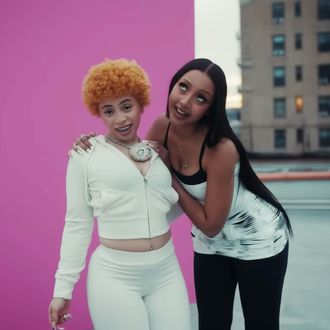 NCTzens Ice Spice and PinkPantheress.
Photo: PinkPantheress via YouTube
The boy may be a liar, but the charts tell the truth. So here's a fact: The Hot 100 has been looking at rising stars Ice Spice and PinkPantheress, who hit No. 4 this week with their collab "Boy's a Liar Pt. 2." It's the first time in the top ten for either artist, after PinkPantheress came onto the alt-pop scene with a slew of TikTok hits in early 2021 and Ice Spice broke out with her drill-goes-pop hit "Munch (Feelin'U)" last fall. (Congrats to Mura Masa as well — the producer also hit the top ten for the first time.) The track, a remix of a PinkPantheress song, debuted at No. 14 last week, and at two minutes and 15 seconds, it is remarkably short for a chart hit. Now, the only question is, will it be good eno-o-ough to hit No. 1 and dethrone Miley Cyrus, who's sitting pretty for the fifth week with "Flowers"?