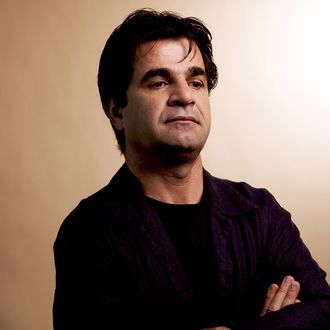 Photo: Jeff Vespa/WireImage
Update, February 3: Iranian filmmaker Jafar Panahi has been released from prison 48 hours after he announced his hunger strike. Panahi was imprisoned despite the Supreme Court of Iran declaring his sentence void. "Although I am happy about Mr. Panahi's release, it must be said that his release should have taken place three months ago, following the acceptance of our objection to his previous court decision," lawyer Saleh Nikbakht said, according to Deadline. The news of Panahi's release was confirmed by his wife, Tahereh Saeidi, and her lawyers to local media.
Original story published February 1 follows.
Iranian filmmaker Jafar Panahi has begun a hunger strike to protest his detention at Evin Prison. His wife, Tahereh Saeedi, and son, Panah Panahi, published his statement on their Instagrams. "I firmly declare that in protest against the illegal and inhumane behavior of the judicial and security apparatus and their hostage-taking, I have started a hunger strike since the morning of the 12th of Bahman (February 1)," it reads, according to a translation provided in a press release. "I will refuse to eat and drink any food and medicine until the time of my release. I will remain in this state until perhaps my lifeless body is freed from prison."
Panahi, who has made the films The Circle, Taxi, and No Bears, was arrested in July. In his statement, the director described his arrest as "more like banditry and hostage-taking than the execution of a judicial sentence." He recalled that he came to Evin with other members of the Iranian creative community to protest the detentions and locate the whereabouts of filmmakers Mohammad Rasoulof and Mostafa Al-Ahmad. It was later announced that Iranian authorities had decided to reactivate a six-year prison sentence Panahi had received in 2010 that was connected to the 2009 Green Revolution. In October, Iran's Supreme Court declared that Panahi's sentence had passed the country's ten-year statute of limitations; this should have granted Panahi immediate release while he awaited a retrial, but that did not happen.
According to Panahi, Iranian authorities have repeatedly made excuses to keep him in prison. "Even though I knew that the judicial system and the security institutions have no will to implement the law (which they insist on), but out of respect for my lawyers and friends, I went through all the legal ways to get my right," the director wrote. "Today, like many people trapped in Iran, I have no choice but to protest against these inhumane behaviors with my dearest possession, that is, my life."
Panahi was detained before the protests began across Iran in response to the killing of Mahsa Amini. Since then, thousands of protesters have been arrested. Per Deadline, at least four have been executed and another 100 are reported to be on death row.
This post has been updated.