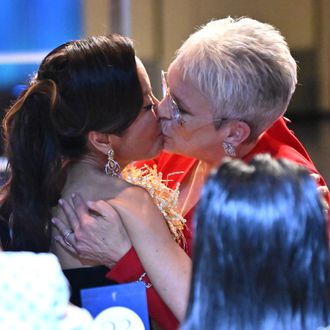 They would make the best nepo babies.
Photo: Rob Latour/Shutterstock for SAG Awards
Jamie Lee Curtis is having the time of her life this awards season. The clearly devoted Michelle Yeoh stan has had a front-row seat to her Everything Everywhere All at Once co-star's multiple awards triumphs. Her excitement on behalf of Yeoh's win at the 80th Golden Globes became a meme, and Curtis turned the meme into a T-shirt with the phrase FRIENDS SUPPORTING FRIENDS emblazoned across it. And now she has taken her fandom a bit further. Following Curtis's Best Supporting Actress win at the 2023 Screen Actors Guild Awards, she yelled "Shut up!" and celebrated by planting a smooch on Yeoh before taking to the stage to accept the honor. "I know you look at me and think, Nepo baby," she began her speech. "But the truth of the matter is that I'm 64 years old, and this is just amazing." More important, she used the opportunity to publicly declare her love. "Michelle Yeoh, I love you, I love you, I love you!," she said. Stars — they're just like us.