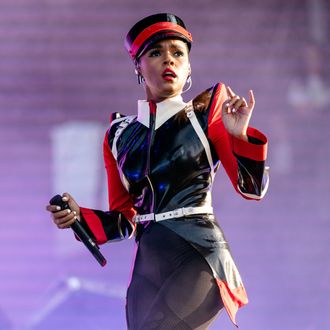 Just don't say she dresses "like the Monopoly Man" again.
Photo: Josh Brasted/FilmMagic
Glass Onion may be over, but Janelle Monáe is still solving mysteries. The latest: the case of her own new music. Future-soul performer Monáe is the beginning of a "new era" after her 2018 album, Dirty Computer. (She's released a few songs for movies since then, while leaning into her own acting career.) The swaggering, groovy new track features horns by Seun Kuti (yes, son of Fela) and his band Egypt 80, as Monáe spits confidence bar after bar. "They said I was bi, yeah baby, I'm by a whole 'nother coast," she raps. "She stay in the hills, he stay in Atlanta, I paid for them both." Get it!
For a second, it seemed like our hopes of new music from Monáe would float away after she teased fans for joking about her "dressing like the monopoly man" after her "Float" announcement. But Monáe had bigger promises to keep — namely, to let the NBA use "Float" in its TV coverage, where the song has also been teased since last year. (After all, "Float" was inspired, among other things, by Memphis Grizzlies point guard "Ja Morant's flotation to the rim while dunking on his ops.") You'll get your own chance to see if Monáe floats on February 17 when she plays in the NBA All-Star Celebrity Game.