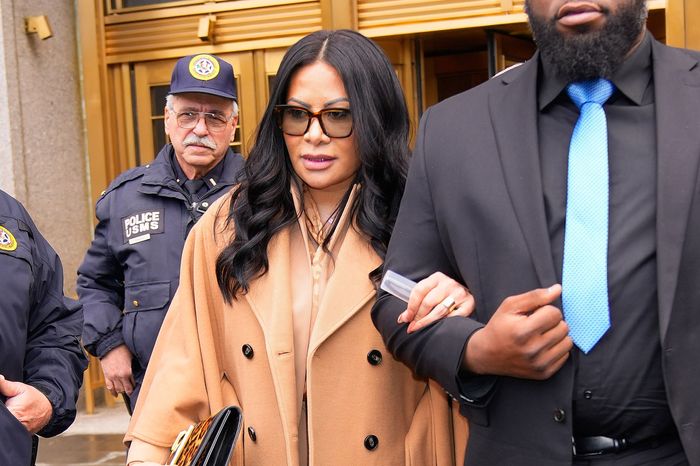 On February 17, Real Housewives of Salt Lake City star Jen Shah must report to federal prison to serve a six-and-a-half-year sentence for her role in a multimillion-dollar telemarketing scam. Shah, who was sentenced on January 6 in Manhattan Federal Court, must also complete five years of supervised release when she gets out of lockup. She asked to serve her sentence at a federal prison camp in Bryan, Texas — the same facility where disgraced Theranos founder Elizabeth Holmes wants to do her time.
Her attorney, Priya Chaudhry, says Shah is "committed to serving her sentence with courage and purpose, fueled by her desire to make amends for the hurt she has caused and to help others in her new community." And while Chaudhry says that "no obstacle will deter Jen from making the most of her time in prison," there's no way to predict things will go that smoothly.
Once in prison, Shah's life will no longer mirror her exaggerated Real Housewives persona. First, there are all the rules to follow, a concept that Bravo viewers know Shah is not too fond of. And there will be lots of them — some written, others simply understood — and a strict pecking order from which Shah can't stray, former federal inmates and a longtime criminal defense attorney tell Vulture. "There are certain rules that everyone must follow, starting with being polite, respecting others' space, never believing that you have any rights — and just keeping out of others' business, " Michael Cohen, Donald Trump's former fixer, who spent time in prison for campaign-finance and tax-evasion offenses, also told Vulture. Here is everything you need to know about what (a costly) time behind bars might be like for Shah.
Jen Shah's celebrity doesn't mean better treatment in prison.
Fame can be perilous for inmates, explained Murray Richman, a longtime New York City criminal defense lawyer who has represented many celebrity clients, including the late rapper DMX. If a celebrity inmate is wealthy, Richman explained, "some of the inmates will lean on them for some benefits — if they have money, they're going to be leaned on." Jacqueline Polverari, a former federal inmate who now works to help formerly incarcerated women, voiced similar views, adding, "I think they're going to extort her." Plus, the presence of contraband cell phones presents a unique financial opportunity for other inmates. "Every woman is going to try to get pictures of her so they can sell them," Polverari said.
While shakedowns are common, celebrities can find some relief if they use their status to lift other inmates up, by teaching courses, for example, and forging what can best be described as alliances. "If this woman has any brains at all, she will work toward helping other inmates and getting somebody to watch out for her," Richman said.
The prison guards will treat her a certain way, too.
"It's difficult because they do get treated differently — not better but worse, because, I believe, correctional officers want to make sure everyone knows they are not treating her better," Polverari said. Guards, or correctional officers, might also want things from Shah, like an autograph or a connection to someone in the entertainment world, Richman said. Cohen, who counted Fyre Festival fraudster Billy McFarland and Jersey Shore alum turned tax-cheat Mike "The Situation" Sorrentino as his neighbors in prison, said there'd be "no preferential treatment" and "in fact, it may sometimes work the opposite way."
"In my specific case, many of the correctional officers — we would call them 'red beards'— were major Trump fans, and they found it enjoyable to interfere in my day any way they could," Cohen said. "I don't suspect she will have the same scenario as I did, as Housewives is not a political show."  He added: "I'm sure that she is going to be fine in that the show is universally enjoyable and it's not political, which brings out anger and hatred by people with opposing views." As for The Situation, he fared better with the correction officers, Cohen said, because they "were major fans of the show, and so he was certainly given more latitude than I."
Shah's larger-than-life personality will have to be toned down — a lot.
"If she acts like a reality-TV-show prima donna, she'll be treated very badly," Richman said. "Let's face it, she's going to have to get a protector in there. She's going to have to get somebody who's gonna watch out for her back, and that may be costly." In exchange for protection, this person might want Shah to put money in their commissary account, buy them cigarettes, or send funds to a family member. "This chick is arrogant," said Larry Levine, a former federal inmate who founded Wall Street Prison Consultants, which helps defendants navigate federal prison when they are incarcerated. "She's going to think she's better than the other inmates, and she's going to find out real quick: No one is going to give a shit who she is."
She should not expect the cosmetic comforts of home.
Shah has always been open and honest about getting cosmetic treatments such as Botox and fillers on her show, and it goes without saying that you can't get tweak-ments behind bars. There will be a hair salon, Polverari said, and inmates can purchase some makeup items from the commissary. "Visitation is the only time she's going to care about what she looks like, really," Polverari said. "She'll have someone tailor her uniform so it's tight on her." Shah won't be able to get these things on charm alone, though. "These people that are doing the cosmetology for her, if you will, they're going to expect to be paid," Levine said. "There's no fucking free lunch."
This story has been updated with additional information.