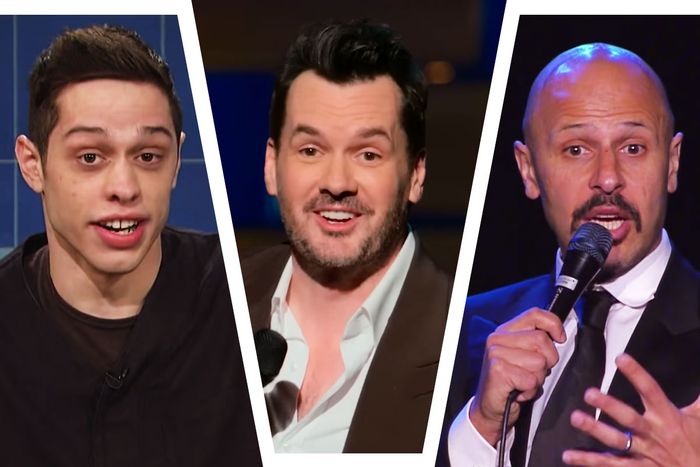 Photo-Illustration: Vulture. Photos: NBC; Netflix; Maz Jobrani
According to findings reported by the American Hair Loss Association, approximately 85 percent of men have "significantly thinning" hair by the time they turn 50. While it's possible that researchers arrived at these figures through rigorous scientific research, it's also possible they collected the data by watching stand-up comedy. Balding is such a common source of comedic inspiration that, in 2021, Dry Bar Comedy put out a 31-minute compilation about the subject titled "Losing Hair Isn't Fair." And on February 14, in his new Netflix special, High & Dry, comedian Jim Jefferies became the latest to tackle the perils of hair loss — specifically, one notorious side effect of its most effective medicinal treatment. "I take a tablet every day to keep my hair looking this fucking shit," he says, referring to the drug Propecia. "But I can't take it every day anymore, because if I take it every day, my dick doesn't work. So I have a couple of options in life: Either I have hair and I can't fuck anyone, or I'm bald and no one wants to fuck me."
Credit where it's due: The joke gets a big laugh, and Jefferies sells it with his signature bluster. But the danger of mining material so close to the surface is that you may find yourself in well-charted territory, and comedians have been getting laughs from the Propecia catch-22 for at least 17 years. Below are six other examples that prove it's time to retire this joke forever — before it becomes as impotent as a man taking Propecia.
Orny Adams (2006)
In this bit, originally featured on his 2006 album, Path of Most Resistance, Orny Adams — best known for starring in Jerry Seinfeld's 2002 documentary, Comedian — does his best impression of an angrier, less PG Seinfeld asking what the proverbial deal is with Propecia. "You lose your erections?" he screams in agony. "That's what I need my hair for! … What a great solution! 'Sorry about my penis, honey, but did you see my hair?'"
Maz Jobrani (2013)
In this clip from his 2013 special, I Come in Peace, Maz Jobrani talks about how he started losing his hair at 18 and consulted a doctor about treatment options. "What's the point, right?" he asks after learning about Propecia's side effects. "A full head of hair but nothing's working down there?" He performs an act-out of a man on a date who is confident about his appearance but swipes his date's hand away in embarrassment whenever she tries to reach for his penis.
Pete Davidson (2016)
Chalk it up to his youthful exuberance, but Pete Davidson's take on the Propecia dilemma during a 2016 "Weekend Update" segment is a lot cheerier than that of his peers. He actually likes that his lower sex drive makes him more apathetic to the throngs of women after his affection. "I have all my hair, and girls still want to get with me, but I'm impotent, so I could care less," he says, flashing a huge grin. "I'm pretty much, like, the coolest guy in town."
Mark Normand (2017)
Originally featured on his Comedy Central special Amy Schumer Presents Mark Normand: Don't Be Yourself, this bit sees Normand laser in on the double-edged sword of Propecia in his wry, rapid-fire style. "About a year ago, I got paranoid about losing my hair," he says. "Started taking Propecia. Could not get an erection … This girl I was dating at the time was like, 'Hey, you've got to get off those pills. I'd rather you have an erection than hair.' Which is nice to hear, but it only makes sense when you're dating somebody. That doesn't work in the beginning. Like, if I was a bald guy that hit on her at a bar, like, 'Hey, can I buy you a drink?' She's like, "I'm good." I'm like, 'Ah, I have a boner!'"
Charles Gould (2019)
In his Comedy Central mini-documentary about a comedian's quest to conquer his anxiety about hair loss, Charles Gould begins by referencing Propecia's cruel irony in conversation with his therapist. "I could take a pill," he says. "What's the point of having hair if you can't get a boner?" Then he takes it one step further: He assembles a panel of three men currently on Propecia to ask them whether they've experienced any sexual side effects and quiz them to see how far they'd be willing to go to keep their hair. "Is there a side effect that would stop you from taking it? What if you lost a toe?" he polls one of the panelists. "Which toe?" asks the respondent without missing a beat.
Matthew Broussard (2022)
Props to Matthew Broussard for tacking on a couple of clever tags to enliven this familiar premise, but watching him contextualize Propecia's side effects by saying "That's like if Adderall made you dyslexic" feels like watching a paramedic try to defibrillate a heart that's beyond resuscitating. It's time to cut our losses and pronounce the time of death.