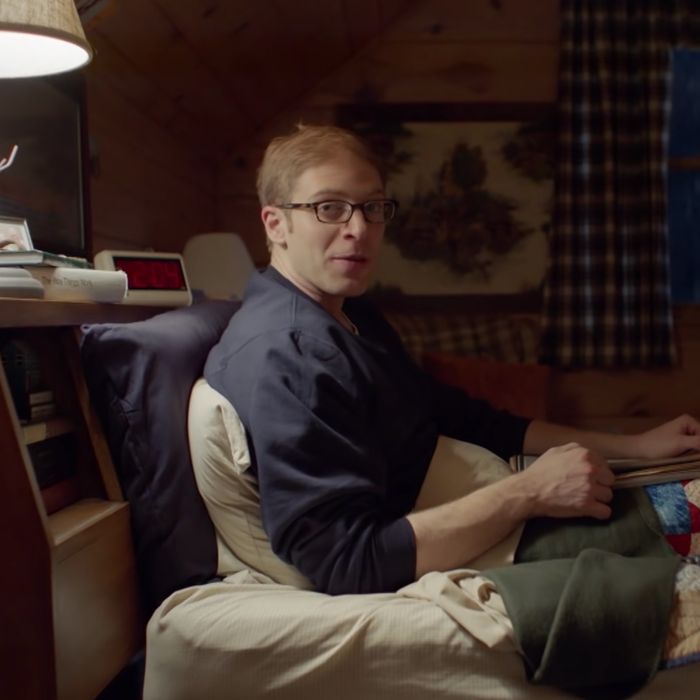 Owing to the fact that dozing off to a podcast is a perfectly quotidian thing to do in 2023, sleep pods have become a robust microgenre over the years. Note the frequent charting of shows like Sleep With Me and Get Sleepy, in which hosts dispense not-particularly-sensical narration to ease listeners into slumber, or the ballooning number of ambient-noise streams populating Spotify's "Top Episodes" listings.
On paper, Drifting Off With Joe Pera may seem like a curious addition to the microgenre — except, well, it's Joe Pera, the Michael Jordan of relaxing vibes. "In theory, sleep isn't hard," the comedian says in the debut episode, which dropped on February 5. "It's about quiet and dark, not owing anyone an unreasonable amount of money. But even if your debts are manageable, sometimes you need a little help."
And so it is that "a little help" is what Drifting Off provides. The first episode, all about soup, opens with the ASMR-tingling sounds of Pera descending a creaky set of stairs ostensibly leading down to his basement recording setup. As the quiet score by composer Ryan Dann, who co-creates the podcast, wafts into the background, Pera informs you of the pot of minestrone simmering upstairs. (The show is also produced by Grant Farsi.)
In his thoughtful, stumbling, and instantly recognizable way of speaking — often described as "grandfatherly," contrasting with his age of 34 — Pera talks about his relationship with soup and pontificates about its splendor. "Of all the foods, it is the most believable to me that a good soup or stew can change the course of a story," he says. "Say a character is about to die. They give him a sip of really good broth and then they regain their strength to win the beauty pageant." Later, he calls up Jo Firestone, a frequent collaborator whom podcast fans may know from Dr. Gameshow and Everyday Decisions. She relates to him a story of having once accidentally poisoned herself with her own pot of soup. The whole episode runs for around 15 minutes, enough to send you off into the night.
Drifting Off marks a full circle of sorts. Pera broke out earlier in his career with an Adult Swim animation, Joe Pera Talks You to Sleep, in which he mixed the relaxing sleep-aid aesthetic with his specific brand of quiet humor. The animation opened up the opportunity to make a TV show, Joe Pera Talks With You. Set in Michigan's Upper Peninsula, the Adult Swim program follows a fictional version of the comedian as he guides viewers through everyday observations of life in his small town. Autumn, the pleasure of a good sitting chair, and weekly grocery trips all feature as subjects of study; so are grief, beauty, and apocalyptic dread. The big and the small go together, producing an emotionally affecting stew.
Joe Pera Talks With You ran for three seasons before Adult Swim declined to renew the show last summer. The newly free time partly accounts for why Pera and Dann, who was instrumental to both the animated short and the TV show, are now making a sleep podcast. But it's not the only reason: For the past ten months, the comedian has been on tour, developing stand-up material for a special that will hopefully be shot in March. At his shows, fans have been telling him they still listen to Joe Pera Talks You to Sleep. "I felt kinda guilty they're still doing it with that," said Pera, who, alongside Dann, spoke with me over the phone last week. "So I felt like I ought to come up with new and more regular material to do it with."
He was speaking from Kansas City, a stop in the latter stages of his winter tour. (A Buffalo native, Pera wasn't particularly pleased that the Bills failed to make it to the Super Bowl. On the other hand, he was relieved not to have to deal with an antagonistic crowd of Chiefs fans.) Dann had been joining for certain stops along the tour, supplying music and trying out some of the duo's sleep material on live audiences. "Man, it's been a blast," said Dann. "It's been really cool to see somebody in person after the show going, 'Your song helped me through a thing.' Really changes my perspective on all these songs that were just silly little things I wrote in a day." One song from the TV show pops up a lot, "In the Dining Room," which appears to be particularly popular with fans in long-term relationships, Dann noted. "Someone reached out to me about framing the sheet music for that," he said. "Which is really funny because you look at the sheet music and it's like, God, this is children's music."
Dann and Pera are very close collaborators, going back well before the Adult Swim animation short. When we spoke, Pera constantly drew attention to Dann's importance to his creative output. "Ryan contributed so much to the soul of the TV show," said Pera. "What I'm trying to say is that it's been pleasurable to do this podcast because everything is stripped back. It's just Ryan and I passing ideas back and forth. He'll send me a piece of music that makes me want to write something that's really good and makes him laugh, and that gives him an idea for another piece of music that might go later into the episode."
Their partnership is also indicative of the integral role that music plays in cultivating the gentle feel that defines so much of Pera's work. Discussing future podcast episodes, the duo spoke about their excitement around bringing other musicians into the mix — the next installment, they say, will feature the involvement of members from the band Friendship. That'll take a while to make, as the show is set to follow an unhurried publishing schedule: New episodes are slated to come out on the first Sunday of every month. Making the show sustainable is a priority, and as part of that, they're funding the podcast through Patreon, which is off to a good start, bringing in around $7,500 a month. "We just want to keep advertisements out of it," Pera said.
You might have noticed the buffet of adjectives I've used in my efforts to describe Pera and Dann's work: gentle, quiet, relaxing, thoughtful. Another word I've often heard used: cozy. All definitely apply, but given the pairing of those concepts with Pera's highly particular style of performance, it's hard not to wonder if the association with coziness ever feels like a pigeonhole. "There are worse things to be called," said Pera. "I hope my stand-up and the TV show go in more directions than that, but at the same time, it's kind of a pocket for my humor. I'm just not a fast person … A lot of the comedy I do is at walking pace."
To some extent, the duo prefer the notion of slowness. "Slowness is also about observation," said Dann. "Part of being observational is putting yourself aside and just being immersed in whatever it is you're looking at. That's a big part of what we're attracted to."
He added, "You have to stand still in order to watch something. You can't sprint through a zoo, you know?"
When working on the first episode, they talked a lot about slowing things down to give more breathing room for people to insert their own thoughts. This makes sense to me. Pera's comedy is typically described as a form of observational humor. It's an expansively broad category that encompasses a wide swath of comedians — perhaps way too many. But Pera's manner of observation is distinct, trending closer to something like meditation. In Joe Pera Talks With You, what he's often doing is expressing appreciation for the little things that make up the pleasures of the world: the sound of rain, collecting wood for a fire, a routine breakfast gathering. In the first episode of Drifting Off, it's a simple pot of soup.