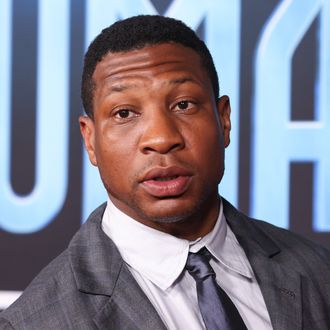 Jonathan Majors.
Photo: Mark Von Holden/Variety via Getty Images
The thing about being an insanely hot person who publishes poetry is that nobody can tell you anything, even Marvel. So maybe it's no surprise that Jonathan Majors, Creed III beefcake and poet-at-large, is an actor with the chutzpah to walk out of a meeting with the biggest movie studio around. "I hope this doesn't bite me in the ass, but I walked out of my Marvel general [meeting]," he told Vanity Fair for its Hollywood issue. "This was a long time ago. I had just gotten out of drama school and I'm running around town and I'm sitting in the office. I grew up in a very particular way and I don't want to waste nobody's time. So I got in there and they're just busy. And I was like, 'I'm supposed to be here, right?' It got long and I went, 'I'm just going to go. It's cool. I'll just go.'" This is an actor with lots of sexy and smart things to do.
Luckily for the fans, the walkout didn't last long and he's now set to play Kang, the new big bad of the Marvel Universe, over the course of several films, starting with Ant-Man and the Wasp: Quantumania, which is going to be released February 17. "I got to the door, but then they said [casting director] Sarah Finn was going to come," the Magazine Dreams star said. "We got in the room and we chatted. We were having this great conversation. I think it was three years later that we had the Kang chat. And there's no trepidation now, especially because of who Kang is. When I said yes, we got the whole picture, and what is being laid out is cohesive." Congrats to this heartthrob on making Marvel money, being literate, and not letting anybody waste his time. Some people can have everything.