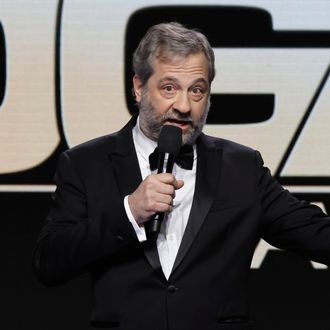 Photo: Kevin Winter/Getty Images
Jerrod Carmichael, you trendsetter, you. Just a month after Tom Cruise's ties to the Church of Scientology were brought up at the Golden Globes, Judd Apatow cruised through his fourth hosting gig at last night's DGA Awards by also cracking a few Cruise jokes. "Every time he does one of these new stunts it does feel like an ad for Scientology, it really does," Apatow said, per The Hollywood Reporter. "I mean, is that in Dianetics? Because there's nothing about jumping off a cliff in the Torah. The only thing he seems to be afraid of is coparenting and antidepressants. Do you think if Tom Cruise took antidepressants he'd be like, I'm not jumping off of a fucking motorcycle on a cliff?" Cruise, who has three children from prior marriages, has previously been criticized for speaking out against anti-depressant drugs and psychiatric therapy.
Earlier in the ceremony, Apatow joked that the visual effects in Top Gun: Maverick were so good that the "stack of phone books Tom Cruise sat on to reach the flight controls" wasn't visible. "That's why he's always jumping out of tall buildings, because you can't tell how short he is from a 100-story building," the director theorized. "That's why when he's standing on a wing of an airplane he's always alone, he doesn't want anyone there next to him for scale." Apatow also insisted that the 60-year-old Cruise needs to "calm down" and understand that CGI is an option. He joked that when Cruise jumped up and down on Oprah's couch in 2005, everyone thought, "'What a lunatic.' Now he drives a motorcycle off a cliff and then BASE jumps, and we're all like, 'Tom's fine.'" Reportedly, Top Gun: Maverick director Joseph Kosinski and producer Jerry Bruckheimer were both in the audience for this roast. Cruise, however, did not attend — he probably needed some rest after tirelessly flirting with everyone at the Oscar nominees' luncheon last week.