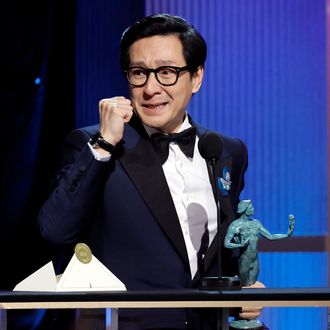 Photo: Kevin Winter/Getty Images
Ke Huy Quan's victory lap through awards season has been a joy to behold. The selfies? Each one a thing of beauty. His role in Everything Everywhere All at Once was a tribute to loving and supportive husbands across the multiverse. But now Quan has made history becoming the first Asian man to win an individual film award at the 2023 SAG Awards. "This moment no longer belongs to just me, it also belongs to everyone who has asked for change," he said in his speech. According to Variety, Quan is the second Asian male actor to win any individual SAG award. Last year, Lee Jung-jae was the first Asian man to win any individual SAG Award for Squid Game.
"When I stepped away from acting," Quan continued, "it was because there were so few opportunities." Quan has been vocal about having to give up on acting for years because there were so few roles for Asian men. Quan had to work behind the scenes for years. "When those opportunities dried up, I spent a long time trying to convince myself that I didn't like acting anymore," he said in 2022. "I didn't want to step away with the feeling that it was because there were no opportunities. I was lying to myself."
After getting shut out of the BAFTAs, Everything Everywhere All at Once is faring better with the guild awards. Jamie Lee Curtis won the award for Female Actor in a Supporting Role, celebrating her win by planting a big ol' kiss on Michelle Yeoh and leading a cheer of her name throughout the ballroom. Yeoh herself took home Leading Female Actor, and her dress won best supporting sound effect during her acceptance speech. And the whole gang won Ensemble Cast, shouting out James Hong especially in their ensemble speech. EEAAO won the top prize at the PGAs, and is nominated at the Writers Guild Awards. Quan has also won a Golden Globe and a Critics Choice for his role in the film.