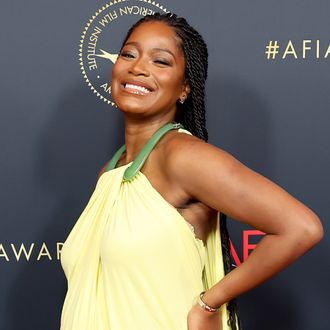 Photo: Amy Sussman/WireImage
Update February 5: It's official, Keke Palmer is on Twitch. Not since Dream's face reveal has the gaming community been so shook. Her channel, itskekebabii, is mostly Sims 4 content, with additional Q&A moments with fans. We wait with baited breath to see what challenge she'll do first. Maybe Not So Berry?
Original story follows.
Sul Sul, Simmers! Keke Palmer outed herself as a Real Gamer Girl on Instagram Tuesday night, by going live while playing her extremely buggy save of The Sims 4. Palmer had previously tweeted about the issues she was having with playing the game on a Mac — a pain the Sims community knows all too well. "I'm on a Mac and I have a bad cc in my game that keeps making my Sim look crazy after she showers," she wrote. "I'm thinking it's a cc and not a mod but I guess I gotta go through in find it? I'm so irritated." For the Sims ignorant, "cc" stands for "custom content," and refers to items made by the fan community for Simmers to install in their games. CC is crucial for many players, especially because Maxis has only recently diversified their skin tones and natural hairstyles.
Palmer went on IG Live to try and crowdsource whatever mod or cc had made one of her Sims turn into walking nightmares after taking showers. Another Sim has issues with their genitals, but Palmer suspected that was an issue with the infamous horny mod Wicked Whims. She also solicited more Black cc creators on Patreon from her viewers. "This is what I've been doing in the house," Palmer said, "playing Sims, awaiting for my baby to arrive." After course correcting on her glitching Sim, Palmer took us all through the drama her character has. Two boyfriends, so many dates, and a flirtation with Santa Claus. But that guy flirts with everybody.