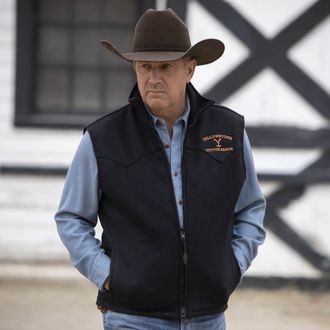 John Dutton (Costner).
Photo: Paramount
You might have heard there's some drama going on with Yellowstone, and we're not just talking about all those bodies dumped at the train station. No, we're talking drama behind the scenes of the Taylor Sheridan series. It was reported earlier this month that Kevin Costner may be leaving the show after its sixth season, thereby causing the Paramount Network hit to be shut down altogether because Costner wants to give only a week of shooting time to the back six episodes of season five (the first batch finished airing on January 2). Now Camp Costner is firing back. "The idea that Kevin was only willing to work one week on the second half of Season five of Yellowstone is an absolute lie," Costner's litigator, Marty Singer, told Puck. "It's ridiculous — and anyone suggesting it shouldn't be believed for one second. As everyone who knows anything about Kevin is well aware, he is incredibly passionate about the show and has always gone way above and beyond to ensure its success."
Puck reports that, from Costner's perspective, the shooting of season five was supposed to be completely finished by 2022, but Sheridan couldn't deliver the scripts on time (because he was preoccupied with his multitudinous other projects.) Costner, meanwhile, wants to focus on his own upcoming film, Horizon, a Civil War–era drama he is directing, co-writing, producing, and starring in; he plans on making a series of Horizon films. The first was shot last year but is awaiting a release date from Warner Bros. Despite this, Costner is already casting Horizon 2 and reportedly told Paramount that, owing to this, he's busy from March to October of this year.
Costner and Sheridan did not get along, per Puck, and the actor had already negotiated short shooting windows for seasons five A and five B. Then he got COVID-19 and obviously could not work but reportedly counted his sick time toward his shooting window — resulting in the Yellowstone cast and crew needing to reassemble for shoots that were both costly to Paramount and annoying to some of his co-stars. So … where do Yellowstone and Costner go from here? Well, what would John Dutton do?