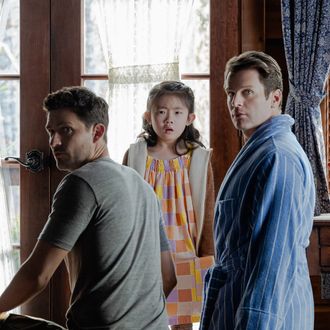 Knock, knock.
Photo: Aaron Ricketts/Universal Pictures
Avatar: The Way of Water heard a knock at the door. It's the gays and they're here to claim the No. 1 spot at the box office. M. Night Shyamalan's new film Knock at the Cabin is officially the new number-one film at the American box office, ending the long reign of the Na'vi. Eywa cries. Knock at the Cabin, starring Jonathan Groff, Ben Aldridge, Dave Bautista, Rupert Grint, Nikki Amuka-Bird, Kristen Cui, and Abby Quinn, follows a gay couple and their adopted daughter who get held hostage by a cult. Adapted from the novel The Cabin at the End of the World by Paul G. Tremblay, it brought in $14.2 million at the domestic box office following its February 3 opening, but while the film may be at the top, it's also the lowest-grossing opening weekend for any of Shyamalan's films (and that includes his Avatar: The Last Airbender adaptation).
Good cast, right? But that's nothing in comparison to the cast of the No. 2 film of the weekend, 80 for Brady, which stars a veritable dream team in Jane Fonda, Lily Tomlin, Rita Moreno, and Sally Field. 80 for Brady accrued $12.5 million on its opening weekend, partially via substantially discounted tickets. The goal of the lower ticket cost is to draw back older audiences who haven't been at the theater since the pandemic began, and it looks like it's working — nearly 50 percent of 80 for Brady ticket buyers were over 50. And they managed to do this in the freezing Boston winter (home base for Brady fans). Wicked cool.