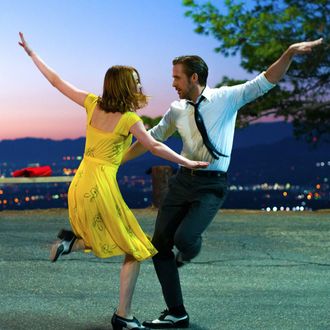 Ben Platt is researching jazz.
Photo: Dale Robinette/Lionsgate
If this winter in New York City was anything to go by, Marc Platt should get ready for not "another day of sun" but "another day of blistering cold." The producer of Wicked, Dear Evan Hansen, and Ben Platt is bringing La La Land to Broadway. The famous Best Picture loser, directed by Damien Chazelle with Emma Stone and famed hip-hop prodigy Ryan Gosling in the starring roles, is over Los Angeles. Tony winner Bartlett Sher will direct the stage production, with Ayad Akhtar and Matthew Decker writing the book. The film's songwriters, Justin Hurwitz, Benj Pasek, and Justin Paul, are returning to write the score and help save jazz (again). Dates and location have yet to be announced.
"I'm thrilled to reunite with Lionsgate and the incredible team behind La La Land to adapt the movie for the Broadway stage, the next exciting chapter in its evolution," Platt said in a statement. "We've assembled a world-class team to create a musical that will delight La La Land's millions of current fans and introduce the property to a whole new audience." And luckily for La La Land, the Tony Awards have experience faking out the biggest award of the night, like when they flashed Wicked on the screen right before it was announced that Avenue Q actually won the Best Musical award in 2004. All the best to La La Land, but nothing's better than losing in spectacular fashion.