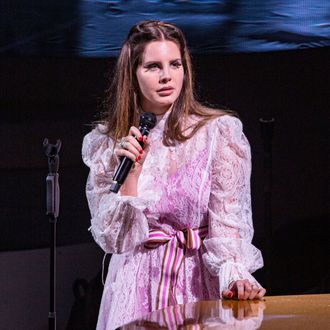 Queen of Ocean Blvd.
Photo: Daniel Knighton/Getty Images
"I just recently realized that I talk a lot," Lana Del Rey told Billie Eilish in the pair's new conversation for Interview magazine. And what a time for that conversation to arrive, with Del Rey also dropping her new single "A&W," which clocks in as one of the longest Lana songs ever at seven minutes, 13 seconds. The highly anticipated single, a.k.a. "American Whore," starts in Del Rey's lush, '70s-pop sweet-spot, with murmured lyrics resembling a stream of consciousness. ("I haven't done a cartwheel since I was 9 / I haven't seen my mother in a long, long time," she opens.) Then, halfway through, a synth bass kicks in and the song pivots, with Del Rey rapping "Jimmy Jimmy Cocoa Puff" and declaring, "Your mom called / I told her you're fucking up big time!" Let the girl talk her shit.
The seven-minute odyssey is the latest offering from Did you know that there's a tunnel under Ocean Blvd, Del Rey's ninth album, out March 24. The album, as she told Eilish in Interview, originally had an even longer title: Did you know that there's a tunnel under Ocean Blvd pearl watch me on ring a bell psycho lifeguard. Del Rey said she only told her designer, Neil Krug, the original title, but when he designed an album cover, "We realized that maybe it was a bit much to have six titles in one." Del Rey continued, "That was a really psychotic day because I was like, 'Am I willing to literally burn everything down to the ground by having some strange, nonsensical title?'"
As for the rest of the album, Del Rey admitted the songs are "wordy" in a way that's "revealing in the same way" as the topless photo she scrapped for the album cover. She said the album started as a collaboration with her rumored ex Mike Hermosa, a cinematographer who would mess around on guitar, and whom Del Rey eventually got into a studio with collaborators like Drew Erickson and Zach Dawes. The last song she wrote, meanwhile, was "Margaret," for her other longtime collaborator Jack Antonoff and his fiancée Margaret Qualley, and featuring his band Bleachers. "I was like, 'You know what? I want to write a song for him,'" Del Rey said. Just don't read too far into it. "When I did Norman Fucking Rockwell! it was about world-building, whereas this was straight vibing," she added.