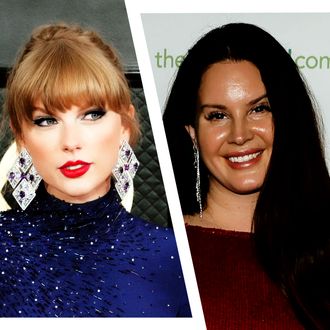 Photo-Illustration: Vulture. Photos: Jeff Kravitz/FilmMagic, Kevin Winter/Getty Images
Looks like Lana Del Rey was silent, not silenced. To the disappointment of many fans, the soda-loving singer didn't have a lot to say (literally, less than 20 murmured words) in her featuring appearance on Taylor Swift's "Snow on the Beach." Now, Del Rey has confirmed to Billboard that Swift also wanted her to sing more on the Midnights collab. "I had no idea I was the only feature [on that song]. Had I known, I would have sung the entire second verse like she wanted," Del Rey said. "My job as a feature on a big artist's album is to make sure I help add to the production of the song, so I was more focused on the production." Surely a middle man — perhaps Jack Antonoff, who co-wrote this song with them — could have helped rectify this miscommunication, but we digress.
Now, we simply have to live with the knowledge that we could have gotten a version of the track where Del Rey says something other than "Snow on the beach," "It's coming down," "Are we falling?," "Janet," and … "Aha." In fact, based on the current second verse of the song, Del Rey would've actually gotten to sing several full sentences, including words with three whole syllables, such as "aurora borealis," "periphery," and "dishonest." Or perhaps Del Rey would've written her own lyrics. As it stands, the song is about falling in love, so there are plenty different ways she could've added another perspective to that message. She could've been singing to Swift as if they were having a proper back-and-forth conversation, or even catered to the Gaylors by singing about Swift … the possibilities are endless. Listen to the track below and imagine "Snow on the Beach (Lana's Version)" for yourself.