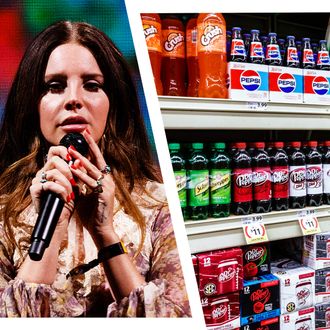 Photo-Illustration: Vulture. Photos: Getty Images
From walking out with an orange pop in the "Ride" music video to enjoying and gifting soda in paparazzi pictures, sodas are Lana Del Rey's greatest sober muse. She's named three songs after carbonated drinks: "Cola," "Diet Mountain Dew," and her latest single, "A&W." The second single off of Del Rey's upcoming album, Did You Know That There's a Tunnel Under Ocean Blvd, fits the theme of the album title, as it is one of her longest songs to date. The song also continues Del Rey's history of referencing fizzy pop drinks, beginning with her first official Lana Del Rey album, Born to Die. But what is it about soda that makes Lana Del Rey grab a pen and paper? Are her favorite sodas worth singing about?
Judging is based on the lyrical use of the soft drink, if she has been known to drink the beverage in real life, and its probability of it being her favorite soda, thus determining its overall score in the universe that is Lana Del Rey's stimulants. Drink up!
5. A&W — "A&W"
Lyrical use of the drink: Del Rey's latest release brings her back to her soda-loving roots. However, she uses the root beer icon as a metaphor for "American Whore." There is no direct reference to the soda in the song, which knocks it down a few points, but the deep beats and vocals during the song are reminiscent of the dark flavors of Root Beer.
Have we seen Lana actually drink it? Much like the mystery of the missing direct lyric reference, Del Rey hasn't been spotted with a root beer of any kind.
Is it her favorite soda? Considering that it wasn't good enough for a direct reference nor for Miss Del Rey herself to be sipping on under Ocean Blvd, it's a no-go.
Rating: 🥤🥤
4. Coca-Cola — "Cherry" and "Wild At Heart"
Lyrical use of the drink: A classic soda for that gets a soft spoken mention in "Cherry." Her breathy voice whispers Coca-Cola underneath the bridge of the song, almost to be completely missed if you weren't reading the lyrics. As someone from a Coca-Cola household, its appalling that Del Rey dismisses the superior cola. Even in "Wild At Heart," she mixes it with alcohol, drinking a Jack and Coke. Is she opposed to none flavored Colas? Does it have to be mixed in order to make it out of her soda fridge?
Have we seen Lana actually drink it? Del Rey has countless photos of her with a Coca-Cola. She uses a bottled Cola, referred to as Mexican Coke, in many photo shoots during the Born to Die era with photographer Nicole Nodland.
Is it her favorite soda? Coca-Cola isn't more than a prop to her on its own
Rating: 🥤🥤🥤
3. Pepsi Cola — appears on "Cola"
Lyrical use of the drink: Her most notable soda reference, and probably the most overrated, she describes her pussy as a Pepsi Cola. Inspired by her boyfriend at the time, Del Rey told Rolling Stone: "He was talking about American girls, his vision of American girls was that all their pussies tasted like Pepsi Cola, and that they were such a dream. I thought that was the funniest fucking thing I'd ever heard. And I thought, 'Well …'" Look, if we had to pick the most American soft drink, it has to be the 136-year-old Coca-Cola, not Pepsi. However, despite a bias towards Coke, the lyric is objectively incredibly funny and speaks to Del Rey as the soda enthusiast that she is.
Have we seen Lana actually drink it? She's been spotted buying Pepsi in its most purest form: from a gas station (iconic).
Is it her favorite soda? While she's enjoyed a Pepsi on the go, the original song is inspired by Harvey Weinstein and isn't played on tour anymore, tainting the taste.
Rating: 🥤🥤🥤🥤🥤
2. Diet Mountain Dew — appears on "Diet Mountain Dew"
Lyrical use of the drink: Gamers unite. Almost begging to be paired with another Del Rey song, "Video Games," she sings of the ethereal beauty and grace of New York City and an unnaturally green soda. She speaks of the soda as a metaphor to a bad relationship "You're no good for me, but baby, I want you." Of course, a diet bright lime green soda is terrible for you, but how could she resist?
Have we seen Lana actually drink it? She takes a big gulp of a 2 liter bottle in a self-made music video for the song from 2017, so it's safe to say she's a true fan.
Is it her favorite soda? Despite wanting something that's bad for her, her over consumption of the soda feels more like an unhealthy addiction.
Rating: 🥤🥤🥤🥤🥤🥤🥤
1. Cherry Coke — appears on "Bartender"
Lyrical use of the drink: Del Rey sure loves a flavored Cola, enough to mention it in two songs: "Bartender" and "Florida Kilos;" the latter is a reference to a vape juice flavor, but nonetheless, she loves her Cherry Coke. "Bartender" is for all the people who honestly just want a tasty lil soda at the bar when everyone is drinking liquor (specifically wine). It calls to soda girlies who can never say no to a delicious pop. She refers to the literal soda "that Cherry Coke you serve is fine," served behind a bar, hopefully from a soda dispenser and not a can.
Have we seen Lana actually drink it? In the "Norman Fucking Rockwell" music video that features "Bartender" she's seen drinking a dark-colored soda, but there's no confirmation that it's a Cherry Coke.
Is it her favorite soda? Del Rey appreciates a Cherry Coke purely for its taste. She loves the flavor in all forms, including vape pens.
Rating: 🥤🥤🥤🥤🥤🥤🥤🥤🥤🥤