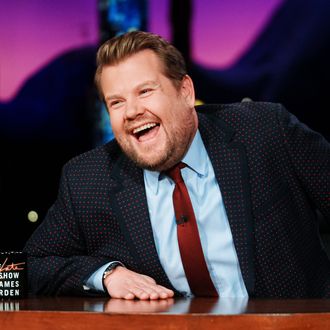 James Corden.
Photo: Terence Patrick/CBS via Getty Images
Points, points, and more points to anyone who guessed that CBS would opt to replace The Late Late Show With James Corden with a reboot of the Comedy Central game show @midnight. With Corden getting ready to wind down the talk show this spring after eight years in the hosting seat, many have wondered who would fill his seat after his departure. On February 7, Deadline reported that the network would be going in a different direction with the show's time slot entirely. Rather than continue with the Late Late Show franchise, the network will tap Stephen Colbert to executive-produce a revival of @midnight along with Funny or Die, the company responsible for the original show. Chris Hardwick, who hosted the original show, will not be involved in the reboot.
@midnight originally aired on Comedy Central from 2013 to 2017 and featured a panel of three comedians, actors, and writers improvising joke responses to extremely online games with titles like "Name That Vine" and "Yahoo Answers." Clearly, these segments are going to need some sprucing up for the 2023 climate. The show was also known for interactive segments like "Hashtag Wars," where people on Twitter would play along and write tweets based on prompts like "#BadCereals" and "#RuinANurseryRhyme." Start sharpening your swords, for you may soon need to fight in these hashtag wars again. Not to mention the minor detail that the show airs at 12:30 a.m., making it more Near Midnight than @midnight.