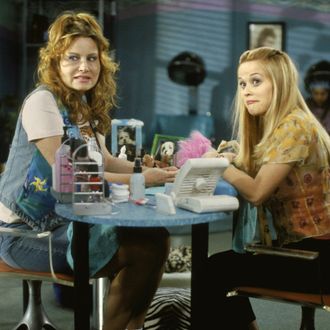 Jennifer Coolidge and Reese Witherspoon in the 2001 film.
Photo: PictureLux/The Hollywood Archive/Alamy Stock Photo
Jennifer Coolidge continues to be the moment. After her White Lotus Emmys win, people are dying for more Coolidge. And what's a better way to see her than hanging out with her Legally Blonde co-star Reese Witherspoon? We do not object. A reunion may be closer than Elle Woods and the color pink. When asked about the upcoming Legally Blonde 3 film, Witherspoon promised that Jennifer Coolidge would reprise her role as Paulette Bonafonté. "There is no Legally Blonde 3 without Jennifer Coolidge," Witherspoon told Entertainment Tonight. Written by Mindy Kaling and Brooklyn Nine-Nine's Dan Goor, the sequel film promises to follow Witherspoon's Elle Woods on a new journey. While details of the project have remained slim, both Witherspoon and Kaling have promised Coolidge's involvement, despite Coolidge knowing "nothing" about the project. Hopefully, the real-life lawyers are settling the contracts so the onscreen lawyer and her best friend can reunite once more.