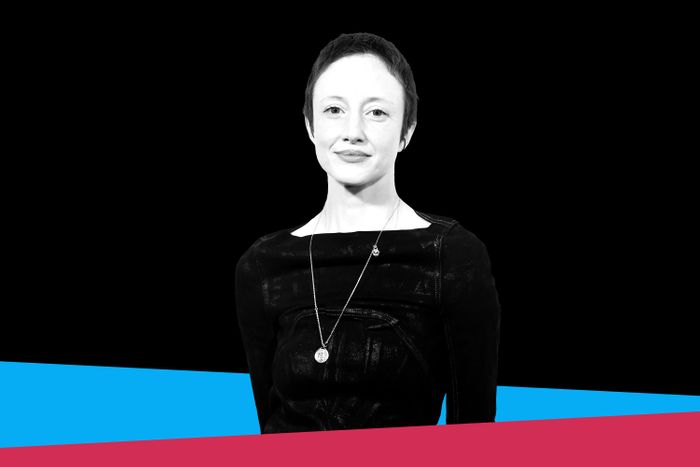 Photo-Illustration: Vulture; Photo: Alberto E. Rodriguez/WireImage
Lil Rel Howery is just one of many familiar faces in the new Natasha Lyonne–led mystery series Poker Face from Peacock. He plays a murderous BBQ-restaurant owner, somewhat of a departure from the more heroic and nice-guy roles he's become known for (the life-saving TSA agent in Get Out, for instance.)
Howery joined Into It host Sam Sanders to talk about getting ready for the role and to play a game of Into It / Not Into It. Besides having thoughts on M&M spokescandies and who is actually the most beautiful man in Hollywood, Howery spoke out about the biggest awards-show scandal this year: Andrea Riseborough's celebrity campaign to snag an Oscar nomination and the Academy investigation it sparked. Read an excerpt of that conversation below on Riseborough, the Academy, and why Viola Davis deserved more this year, or listen to the full episode of Into It wherever you get your podcasts.
Are you into or not into the Academy investigating the actress Andrea Riseborough over this grassroots campaign she had to score an Oscar nomination? 
I am into it.
You're into doing it or you into the Academy investigating it?
I'm into the Academy investigating it.
Tell me why.
Well, there's a lot of reasons why. Well, first of all, I hate that's the only investigation the Academy has because I feel like, even though they keep telling us the members are diverse, I don't believe it.
No, they ain't.
It can't be. It cannot be. It cannot be when you don't see … Viola Davis has been nominated for an Academy Award before, but this particular character she played in The Woman King. Viola Davis is in her 50s. So outside of what she did with just the dialect and the acting, the physicality —
She got ripped like a gladiator.
— and was doing that stuff. It's just very unfortunate that we keep — and just being honest, especially as Black people, we want to be recognized by the Academy so bad because we know what it does for our bag. You know what I'm saying?
Totally.
But are we ever going to get that due? Because I believe it should have been three nominees.
Tell me, tell me.
The young lady that played in Till.
Oh, she was great. Danielle Deadwyler.
Danielle Deadwyler, yes, and she's amazing. We got our Angela Bassett nomination because we knew that's what it should have been. They don't even like to nominate Marvel people for anything.
But they knew they had to give it to her because she did the work in that movie. She did the work.
She did the work in that. She did the work. Woman King, to me, was one of the best movies I've watched.
It should've gotten the Best Director nomination as well, if we're being honest. For Gina Prince-Bythewood.
Cinematography — I'm still in shock. Even costuming. I just thought it was weird, man. I don't know.
So, this whole campaign, Andrea Riseborough plays an alcoholic in this movie nobody saw. It's called To Leslie. And people say her performance was actually good, but this movie got no buzz. She got the nomination after she convinced all of her famous friends to do this social-media blitz for her role in the movie. So she has folks like Gwyneth Paltrow and Edward Norton and Courteney Cox posting about her and the role and doing all kinds of content to get her some buzz for the nomination, and she gets it. Some people are saying, "Well, that's actually fair to do. And how is that any better or worse than studios spending millions on campaigns through the more formal route."
But my question is this, for you and for all of our listeners, too: Andrea Riseborough's campaign with her famous friends, it was all her white friends. If a Black celebrity had a grassroots campaign with all of their Black friends, would the Academy care, or would the Academy reward that kind of campaign the same way?
Think about this: We've always done that type of campaigning. Nobody cares. You know what I mean? What the problem is, if I could be honest about her campaign, I feel like she knew who the members was.
She sure did.
And that's just what it was.
She gamed it. Half of me wants to be like, "Kudos to you, Andrea Riseborough," but the other half is like, "Don't mess with Viola. It seems like you took Viola's spot, and I will always choose Viola over anybody else."
Somebody else should have got bumped.
Well, now tell me who should have got bumped?
So you heard it — was it the Rizzies?
The Razzies. The Razzies. Yeah. They award the worst in film every year. 
I'm not going to say anything, but it's a movie nominated as a Razzie.
It also has an Oscar nomination. 
That doesn't make sense to me.
This movie in question. Can I name it? Can I name it? Is that okay?
You say what you want to. I ain't saying. I didn't say anything.
This movie Blonde, in which Ana de Armas plays Marilyn Monroe. Ana got a Best Actress nomination at the Oscars for her work in that movie, even as the film itself got a number of Razzie nominations as in for the worst movie of the year. How does that happen? I don't get it.
It's just — and that's somebody I did film with. I did Deep Water with her, with Ben Affleck. Amazing. I'm just talking about the Academy. What are y'all doing? Come on, fam. For real?
I still think you and everybody else involved in Bad Trip deserves all the awards. I love that movie so much.
I'm going to tell you something: Tiffany, based off the way they praised Borat and all those different movies — Bad Trip was masterfully done. And Tiffany Haddish was brilliant in it. I wish she would've gotten, like, a Best Actress nomination for that. But that happens, man. You know, Get Out should've won an Oscar. But it is what it is.
I do want to ask, since we brought up Get Out, you play an iconic TSA officer in that movie. Please tell me that you still have a pleasant, ongoing relationship with the TSA. You just go chill with them and kick it sometimes? Please say "yes."
Let me say this: So I remember the movie first came out, and it was doing well. Everything was going on. I was in memes. And so much love I was getting on the streets. I go to the airport thinking that's where the love was about to come. I get to see my people. I get to the airport going through the line, they're like, "Hey man, we love what you do, man. You represented us, man. We love it." I'm like, "Cool." They're like, "Yeah, yeah, but you still got to take your shoes off and put your laptop on."
Wait, hold on. No wait. You aren't TSA Pre?
Most of the time. No, this is going to be the Hollywood part of me, but I have the escorts.
Oh, oh. You don't even deal with security lines anymore. Oh. Wait, how does that work? I don't know. Us peasants don't know. Tell me how that works.
They walk you through straight to the front and then they take you to the car and drive you to the plane and you get on.
Wait, they drive you on the tarmac to the plane?
Yeah.
Stop.
Now I'm going to tell you something funny about that. The first person I saw do that was Chadwick Boseman. This is the funny part. I didn't know that existed yet. But we're both in first class. And we're talking, me and Chad. Oh, God, rest his soul, I miss him so much. And so we're getting off the plane. He say, "All right, bye, Rel." And then he just disappears. And I'm like — it felt like he was Black Panther for real. Like, Where did he go? Where did he go? He just disappeared. And I figured out, once I end up having that service, it's like, as soon as you walk off the plane, you get right out that door. And you go right to the car, and it takes you to your car.
Must be nice. Someone told me once that LAX has a secret terminal for celebrities.
No. Well, maybe. I ain't been to that part yet. I'm just at the car to the plane.