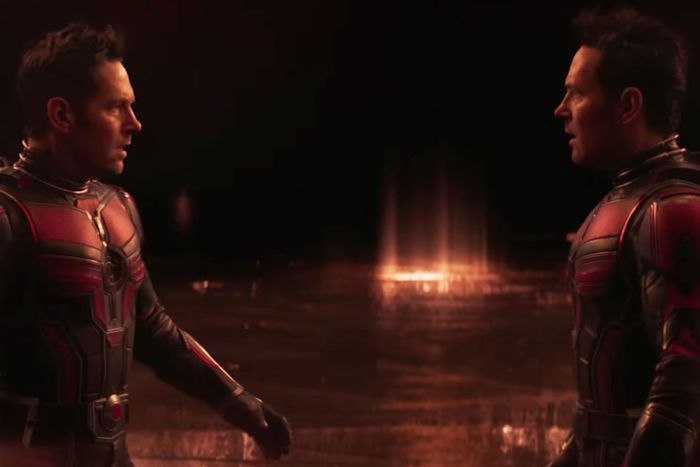 Three VFX workers break down why
Ant-Man and the Wasp: Quantumania
looks the way it does.
Photo: Marvel Studios
Over Presidents' Day weekend, Ant-Man and the Wasp: Quantumania stung with unexpected venom at the box office, surpassing financial expectations to arrive as 2023's first blockbuster movie. The superhero threequel pulled in $120 million in North America — a franchise high and 37 percent improvement on the opening tally for 2018's Ant-Man and the Wasp — grossing $241.3 million worldwide to become the third most lucrative title (behind Black Panther and 2016's Deadpool) to drop during the three-day, late-February release frame.
Arguably more shocking, though, the $200 million Paul Rudd–Evangeline Lilly two-hander (which also stars Jonathan Majors as subatomic megalomaniac Kang the Conqueror) managed to put all of those butts in seats despite emerging from a hive of some of the most negative buzz ever generated by a Marvel Studios property. Quantumania now stands as one of just two titles in the 31-movie MCU canon to rank "rotten" on the Tomatometer (the other is 2021's Eternals). The film also earned a rare "B" CinemaScore from audiences ("B's generally are shaky," CinemaScore's founder has explained).
Although many reviews fault Quantumania for omitting the low-key breeziness that distinguished the first two Ant-Man installments, critics hauled out their heaviest brickbats to lay into the movie's CGI and visual effects. The U.K.'s Observer derided Quantumania as an "incoherent effects-dump of a movie." In a Los Angeles Times review, Justin Chang took issue with the Quantum realm's "surreally designed yet gloppy-looking orange landscape." "This isn't world building," he wrote, "it's more like world barfing." And on Vulture, Bilge Ebiri pondered whether director Peyton Reed and his creative cohort had grown bored whamming together Quantumania's elaborate but listless, psychedelic yet unoriginal visuals: "Nothing seems to match. If you told me that the actors had been shot before the filmmakers decided what they would be looking at or interacting with, I'd believe you."
It turns out critics aren't the only ones who feel that the computer-generated imagery on Quantumania could have used a bit more fine-tuning. Some of the very VFX technicians and artists who created those sequences — who spoke with Vulture on condition of anonymity for fear of professional retaliation — agree that the film's CGI-quality-control measures were subpar. Two of the three people we interviewed admitted that "shortcuts" were taken and said critical resources were diverted away to Black Panther: Wakanda Forever — the follow-up to 2018's $1.34 billion–grossing Black Panther — which was in postproduction around the same time as Quantumania. Several of the same effects houses worked on both films, creating competition for the most highly skilled VFX workers.
Like previous criticism leveled at Marvel by effects techs tired of being "pixel-fucked" and pursuing unionization, these workers say the project was severely understaffed while facing an unrealistically short deadline to hit Ant-Man's long-established Presidents' Day bow. The upshot: a grueling slog during which filmmakers and studio executives "nitpicked" and revised vast swaths of Quantumania without budgeting enough time to implement the changes, forcing VFX workers to toil as many as 80 hours per week for months. "This was like a second wave of what happened with James Cameron on Titanic, where the compositors were basically taking naps under their desks, because there wasn't enough time between shifts to go back home, then come back," one of the techs said. "Now, the entirety of the industry that has been touched by Marvel is permanently seared, and that's what's causing the most burnout."
Jim* is a visual-effects technician who has worked on more than half a dozen Marvel movies and series and says many of his experiences working for Hollywood's most reliable blockbuster factory have been positive. The effects house that employed him worked on postproduction for Quantumania and Black Panther: Wakanda Forever, the latter of which he says Marvel prioritized over the former. 
In terms of priority, Wakanda Forever was definitely at the top of the list. All the money went to that. All the best resources went to that. It's understandable given the context — with Chadwick and everything and how well the first film did. But it did diminish the ability to carry Ant-Man all the way through.
For Ant-Man, there were a lot of editorial changes happening toward the latter third and fourth of the project that were just too late. There's a point of no return. Why certain things were changed, why certain notes were nitpicked longer than they should have been — that's on Marvel. But it definitely did cause a lot of tension, turmoil, and weight on everybody at [company name redacted].
Unfortunately, it is noticeable that there were shortcuts. Certain things were used to cover up incomplete work. Certain editorial cuts were made to not show as much action or effects as there could have been — likely because there just wasn't enough time to render everything. There was a lot of shortening and rolling of shots (rolling is when you don't shorten or lengthen a shot — you just move it a few frames in the cut). It really did feel like certain scenes were trimmed or otherwise altered to either save money, save time, or cover up the inability to get it done.
Why didn't we push back? You don't want to do anything that's going to jeopardize your livelihood in the slightest. Part of that means when an executive decision comes down the line that says, "This is what we're going to do," you just assume you don't have the power to say anything against it. You can't be like, "Well, that's kind of shitty. Shouldn't we do something better?" Because that will never happen.
A lot of us are sitting here thinking, The money is there. Why is it not coming down? Marvel spending a bit more money to pay more VFX people wouldn't make that much of a difference for the executives all the way at the top. But if it comes down to them not being comfortable with their bank numbers and us working until burnout, we lose out every time. Honestly, I equate it to human greed.
Overall, I think what they came up with is satisfactory. It's a good placeholder for the beginning of Phase Five. But I think there was so much potential for this story, for the visual effects in general — I think the movie is getting the reviews it's been getting because Marvel is doubling down as much as possible on constricting quality. They're squeezing blood out of stones. And we're out of blood.
Ted* is a veteran photogrammetry tech who has worked on several megabudget superhero movies and streaming series. He decries overall working conditions in the VFX industry, which involve "a lot of unpaid overtime, unrealistic deadlines." But he has no major qualms with the Quantumania production.
My experience on Quantumania was comparable to the majority of productions we [VFX specialists] work on and, therefore, not especially bad or difficult. I wouldn't say other projects necessarily took priority or that morale was particularly bad (although one of my co-workers actually became unhappy because of the lack of work he was given on that movie — he spent days on standby only to end up doing nothing, and this went on for months). Our working conditions are often less than ideal, and Quantumania was just another in a long line.
Conor* has worked as a VFX artist on several of the biggest superhero-movie franchises of the last decade — including a number of Marvel's biggest blockbusters. During postproduction on Quantumania, the effects house employing him was concurrently working on Black Panther: Wakanda Forever.
Wakanda Forever took precedence. It felt like the higher-up and supervisor roles were shifted around to put that on their plates and there was a smaller team working on Ant-Man. It was on the back burner — less of a pressing thing.
Maybe the director had an idea of what he wanted, but he wasn't 100 percent clear. We had a rough environment that we were sticking a few main characters in. At that time, we weren't told where the characters should be in that environment. We were just going with what felt right.
Then there were times when we were creating an actor's entire action: Ant-Man moving across something. And you just think, Why didn't they film it the right way or how they wanted in the first place? Why are we having to redo and re-create? Why do we have to Frankenstein together an actor's performance? A quick shot that maybe takes two seconds would have to be redone 20 times to get the look that they want. There was a lot of reworking, a lot of inefficiency. I ended up taking over and reworking a large portion of other artists' work — which is not how things usually go when you are working for other studios.
I haven't seen the finished movie yet. There were some cool sequences we were putting together that seemed promising. But there could have been more people involved on the project. Maybe more money spent. With a lot of these projects being worked on simultaneously, resources become thinner. The quality starts lacking. You can't expect all of the VFX companies to give the highest-quality work, especially if you're going to do it on a lower budget.
* Names have been changed to protect our sources' identities.