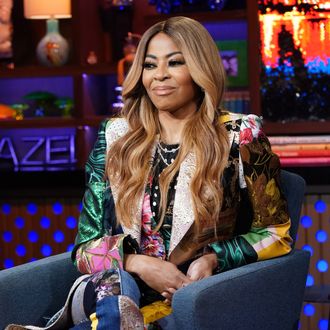 Photo: Charles Sykes/Bravo/NBCU Photo Bank via Getty Images
Bravo continues to play mix-and-match with the Real Housewives of Salt Lake City lineup. Remember the opening of Clueless, where Cher is using software to go through her outfits? Scrolling and making "ugh, as if!" faces? Imagine Andy Cohen doing that. "Page Six" is reporting that Dr. Mary M. Cosby will be returning to RHOSLC, not as a full cast member but in the lesser "friend" role. Cosby will be the friend of Meredith Marks — truly a friend to all, except Lisa Barlow. And, by extension, also not a friend to fast-food chain Wendy's. Cosby's reentry into the Bravosphere comes after both Jennie Nguyen and Jen Shah were removed from the show for their respective controversies.
Cosby slunk out of RHOSLC, skipping the season-two reunion. On Instagram, she only vaguely referenced her reasons for missing the reunion, writing that "bad reality TV" was bad for one's mental health. A source told "Page Six" that Cosby left the show because of Nguyen. "Jennie's racist posts really seemed to shake Mary, especially after Jennie threw a glass at her on-camera," they said. "Mary was grateful for the time away from the cameras, but she seems ready to get back in the mix." The source didn't address accusations of racism directed toward Cosby or the rumors surrounding her Faith Temple Pentecostal Church or the death of Cameron Williams. In January 2022, Cosby said on Twitter Spaces that she didn't want to "get on the reunion for a four-part reunion and talk about this guy who has passed," referring to Williams.