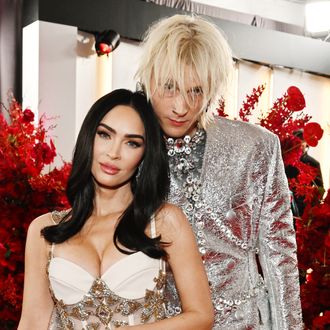 Photo: Lester Cohen/Getty Images for The Recording Academy
Not the type of fumble you thought you'd be hearing about on Super Bowl Sunday, huh? It looks like Machine Gun Kelly may have cheated on his fiancée, Megan Fox. All right, so she didn't outright accuse him of infidelity, but she's done the social-media equivalent of that. Fox deactivated her Instagram after she deleted all pictures of MGK on the account this morning and posted some pointed Lemonade lyrics: "You can taste the dishonesty / it's all over your breath," she captioned a carousel post that ended with a video of a burning envelope. She hasn't confirmed anything, but quoting a song like "Pray You Catch Me" and then taking a break from social media? If that's not a hint at a breakup, we're not sure what it is. Fox, who was the poster girl in MGK's teenage bedroom, previously announced her engagement to the musician in January 2022. In a (since deleted!) post, she revealed they dated for "a year and a half" before he proposed. "Just as in every lifetime before this one, and as in every lifetime that will follow it, I said yes…and then we drank each other's blood," she wrote at the time. The pair frequently referred to their relationship as a "dark fairytale," which naturally meant that her engagement ring had to match the tone. "The bands are actually thorns. So if she tries to take it off, it hurts," MGK told Vogue. "Love is pain!" In light of today's news … ouch.
This post has been updated.