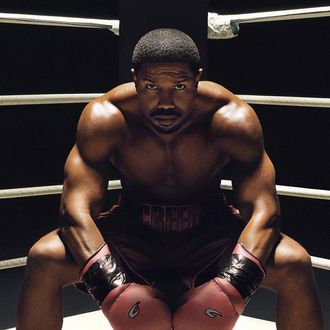 Michael B. Jordan in a first-look photo for
Creed III
.
Photo: Warner Bros.
My man Michael B. Jordan has two jobs (in the upcoming Rocky franchise installment). The sexiest man alive (per People magazine's observation in 2020) directs and stars in Creed III, reprising his role as the unyielding boxer Adonis, the son of Apollo Creed from the original Sylvester Stallone movies. He's taking the reins from Ryan Coogler and Steven Caple Jr., who directed the first and second films, respectively. Another known sexy man, Jonathan Majors, plays Creed III's villain, Damian. The high-intensity trailer, which teases a meaty epic about Adonis's legacy and Damian's vengeance, premiered in a surprise, in-person screening on October 17 with Morehouse, Spelman, and Clark Atlanta University students in attendance before officially arriving online the next day. The final trailer arrived two weeks before the film does its ring walk to theaters on March 3. "When Dame came back, the past came back too," Jordan says in voice-over. That past is about to hit him with an uppercut. Below, everything we know about the upcoming battle for the sexiest man alive. Who said that?
So who's in Creed III?
If you've been keeping up with the Rocky spinoffs, you know Jordan leads the whole shebang as Adonis Creed, the son of Apollo, Rocky's antagonist in the original film. Tessa Thompson, who appeared in the first two Creed installments, returns as Adonis's love interest, Bianca. (In an interview with MTV, she said her co-star's sexiness may disarm her when he's the director: "It's going to be ammo, I think, for me when he is engaging with me as a director," Thompson admitted, to the collective nod of everyone who thinks Jordan is just too fine. "I'm just going to tell him to dial down the sexiness.") I hope she isn't part of the camp who thinks Majors got it going on too; with the actor, who also plays Marvel's Kang the Conqueror, as the movie's villain, Damian, the handsomeness on set would probably be too much to bear.
"I think, first of all, Jonathan Majors is incredible," Jordan said in an October 17 press conference. "Very, very blessed and lucky to have him be a part of this story … The world is finding out daily how incredible this man is in the work that he does, [and he] is finally getting the props that's due." Jordan called the remainder of the cast "incredible" — the group includes Phylicia Rashad, Wood Harris, and Florian Munteanu, who reprise their roles from earlier entries in the franchise. Meanwhile, this is the first film in which creator and O.G. star Stallone will not appear.
As for the soundtrack, Jordan confirmed that Dreamville and J. Cole will be executive-producing the project.
What's the plot?
Well, for one, Jordan and Majors will fight in a boxing ring — a sweaty spectacle that'll be enough to get most people's butts in seats. In an interview with Men's Health, Majors hinted at his character's past being linked to his own trauma. "There are certain reasons you build your body," he told the magazine. "Dame's body was built from loss. He had lost something, and that hole is what made him work the way he worked. When you see Dame's body, you go, Oh, that makes sense. You don't look like that and be happy with life."
The trailer picks up where Majors's comments leave off. We see Damian, who appears to be Adonis's childhood friend, return to society and get back to boxing after being locked up for years. The details are murky, but it's clear he's seeking revenge after Adonis wronged him during a run-in with the cops that landed his friend in jail. "There may have been a time when Damian had your back," Mary Anne (Rashad) says in the trailer, "but that's not what he's doing now." Incarceration didn't only take away Dame's freedom, but it also took away his status as the best heavyweight boxer. "Try spending half of your life in a cell, watching somebody else live your life," he tells Adonis in the clip.
Jordan said that homecoming, settling debts, and accountability are this project's big themes. "You have to face your past and find out who you really are," the director said. "I think it is something that we address in this movie … I wanted to create a story where everybody felt like they could relate to something." His way of telling a relatable, universal story? Diving into his own experiences: "I had a lot to say as a young man, as a young Black man, [about] my life experiences and how I could actually share a piece of myself with the world through these characters and through this story."
Beyond the film's thematic elements, the relationship between Adonis and Bianca begins to evolve. "I feel like there's a time where adults, people in a relationship, have to make choices," Jordan began his thought experiment that felt like an indirect comment on his former relationship with Lori Harvey. "How do you compromise? Where's the middle ground, you know? How do two people who are successful by themselves be successful together? … What does that look like? Who's carrying the weight within a relationship?" In earlier comments about the lead couple's evolution, he admitted he could relate to Adonis: "I think it was a reflection of kind of where I was in my life, you know, professionally, personally." 👀
When will Creed III be released?
The first-look photos came with a confirmed release date: The film hits theaters (in the face) March 3.