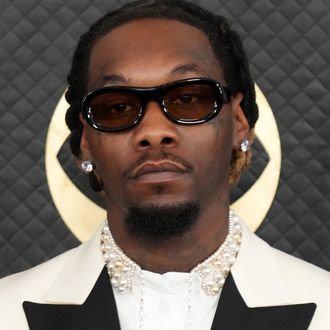 Offset
Photo: Jeff Kravitz/FilmMagic
Update, February 7: Despite Offset's apparent denial that a fight between him and Quavo occurred at the Grammys, new reports suggest there may have been words exchanged. Cardi B, the "Money" rapper and Offset's wife, was caught on-camera scolding people backstage, per iPhone footage obtained by ET. "Both of y'all wrong. Both of y'all! This is not right," Cardi yelled in the clip, though it's unclear whom she's telling off. "No, bitches, shut the fuck up. 'Cause you shouldn't have been talking." Sources claim Quavo — who performed his tribute song "Without You" solo during the "In Memoriam" portion of the ceremony — instigated the fight when he blocked Offset from joining him onstage. What actually went down remains a mystery (for the blogs to solve).
Original story, published February 6, follows.
Offset doesn't appreciate the peanut gallery's commentary on his relationship with Quavo and their late bandmate, Takeoff. Amid speculation that the remaining Migos members fought just before an "In Memoriam" tribute honoring Take at the Grammys, the rapper hopped on Twitter to more or less deny the rumors. "What tf look like fighting my brother yal niggas is crazy," Offset tweeted on February 6, pretty much shutting down the viral report. It wasn't the first time he clapped back at rumblings of discord between him and his amigos. The night before, after the Grammys, he responded to comments made by Rap-A-Lot CEO J. Prince that insinuated Offset was not there for the late member while he was alive. "Niggas be throwing rocks and hiding they hand, and I don't like them kind of individuals," Prince said on the latest edition of his podcast, Million Dollaz Worth of Game. "In reality, the truth of the matter is, nigga, you wasn't really right there with Takeoff when he was alive." The podcast host claimed he had insider information from unnamed sources about the night Takeoff died and issued a warning to Set: "Don't ever put me in a position where I have to defend myself. That wouldn't be healthy for you."
Offset called Prince's bluff in a video posted as Instagram Stories. "Y'all niggas speaking on my real brother … I don't know what the fuck ya'll niggas got going on; y'all niggas talkin' about my real brother," the rapper hit back. "How dare one of y'all niggas even speak on me and Take relationship. I don't know you niggas from a can of paint. Y'all niggas don't know how me and my brother rock … This your fifth interview." He went on to accuse Prince of playing "internet games" and being insensitive to the bereaved family, denouncing the "he said, she said" nature of the discourse surrounding the Migos members' relationships. "Call my phone. We could have a conversation," he dared Prince.