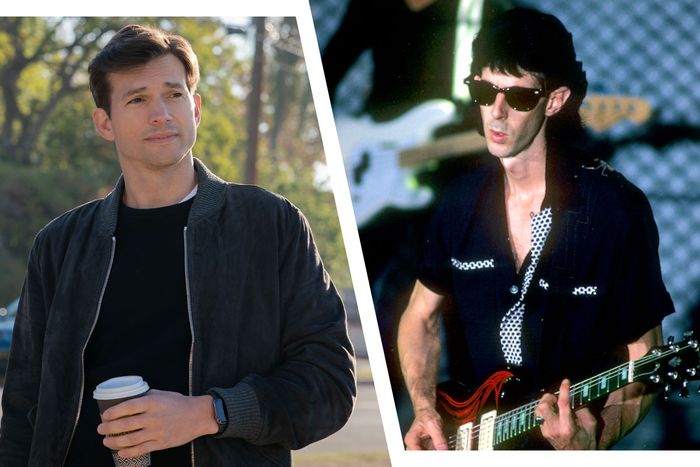 You might think I'm crazy, but all I want is you.
Photo-Illustration: Vulture. Photos: Erin Simkin/Netflix; Ron Pownall/Getty Images
In the new Netflix romantic comedy Your Place or Mine, Ashton Kutcher's character harbors an all-consuming infatuation that only grows stronger when the credits roll. He thinks about it "morning, noon, and night." It's hot; it's heavy. It has its own keyboard section and even two lead vocalists. Some say it ended Television with its commercial appeal. No, we're not describing his onscreen best friend, played by Reese Witherspoon. He's obsessed with new-wave royalty the Cars, so much so that the film is soundtracked by ten songs from the band — a staggering number that might as well give it the name Your Place or Mine: The Elektra Years.
Aline Brosh McKenna, best known for co-creating Crazy Ex-Girlfriend and writing comedy pillars The Devil Wears Prada and 27 Dresses, knew while crafting the script that she needed "a little magic trick" to better understand the 40-something Peter (played by Kutcher) and his romantically closed-off perspective. Music, the universal language, became the solution. "I wanted to find a voice for him, or a place where he lets his hair down," she says. "I was looking for a band that a guy at that age would be super-into and listen to on a loop. With my husband and two boys, I've noticed that men really seem to hone in on a group that they feel speaks to them. It's a soundtrack for their life. So I was looking for a band I felt would show his emotional and cerebral qualities, and I realized that's what the Cars give you."
McKenna, who likens Cars songs to "emotional and undeniable bops," found the band's discography to be ideal movie music because of its versatility. "We used ten songs, but I could've used 20 of them easily. They work really great as needle-drops and as a score," she explains. "They're great writers and cool vocalists. When you put them on, they do a really good job of scoring your life. They have an epic sweep that makes you feel like you're a movie character when you listen to it. It worked beyond my wildest dreams." Among the tracks that made the final cut include era-staples "Let's Go," "Drive," "Shake It Up," and "Just What I Needed," with "Bye Bye Love" and "You Might Think" serving as must-haves for McKenna. ("Moving in Stereo," forever enshrined in Fast Times At Ridgemont High, was excluded.) "There were times where we would try five of them for a scene and they would all work," she notes. "I believe my first cut has 14 Cars songs, but then I had to whittle them down a bit."
Original members Benjamin Orr and Ric Ocasek have died since the start of the millennium — Ocasek, who passed in 2019, left behind a particularly messy state of affairs — which meant, for licensing purposes, the quintet's surviving trio had an active role in approving their hits for Your Place or Mine. "They were really great," McKenna says, "and extremely generous and supportive of the film." Kutcher himself ended up developing an affection for the Cars during the shooting process, so much so that McKenna gave him and his wife, Mila Kunis, original vintage T-shirts from the Candy-O tour as a wrap gift. "I found that when I mention the Cars to people it makes them happy," she adds, "both to think about them and to actually hear the chords."