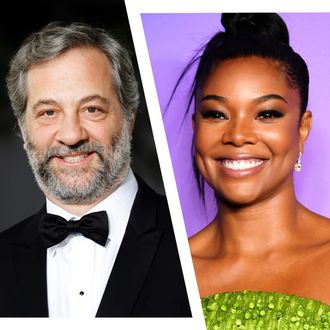 Judd Apatow and Gabrielle Union.
Photo-Illustration: Vulture. Photos: Getty Images
Gabrielle Union, Judd Apatow, and other famous faces joined over 100 organizations and leaders to condemn the New York Times for "irresponsible, biased" coverage of transgender people that promotes "dangerous inaccuracies" about trans lives in an open letter on February 15. "It is appalling to see how the news and opinion pages are now full of misguided, inaccurate, and disingenuous 'both sides' fearmongering and bad faith 'just asking questions' coverage," the letter reads. "We won't stand for the Times platforming lies, bias, fringe theories, and dangerous inaccuracies." Allies and LGBTQ+ Hollywood stars, including Tommy Dorfman, Wilson Cruz, Hannah Gadsby, Jameela Jamil, Jazz Jennings, Jen Richards, Joey Soloway, Johnny Sibilly, Jonathan Van Ness, Lena Dunham, Margaret Cho, Peppermint, and Zackary Drucker signed the letter, alongside influential journalist Roxane Gay, GLAAD, GLSEN, the Human Rights Campaign, National Black Justice Coalition, Women's March, National LGBTQ Task Force, PFLAG National, the Transgender Law Center and Transgender Legal Defense & Education Fund.
The signatories accuse the newspaper of eroding support for transgender youth by publishing both harmful stories that undermine already medically approved, gender-affirming health care and unfounded thoughts by cis authors about how LGBTQ+ people should describe themselves. They say the Times' decision to repeatedly give space to anti-trans voices fans the flames of anti-trans legislation — one such article was quoted in a State of Texas report that targets families of trans youth. Not only is it damaging to the paper's credibility, the letter states, but it is "damaging to all LGBTQ people, especially our youth, who say debates about trans equality negatively impact their mental health, which is a contributing factor to the high suicide rates for LGBTQ youth." Though there have been "a few fair" stories, they say those are eclipsed by the anti-trans stories that get front-page placement. The paper also hired columnist David French, a former attorney for the Alliance Defending Freedom — an organization that has been classified as an anti-LGBTQ hate group by the Southern Poverty Law Center — a decision that further undermines their coverage, according to the letter.
Together, the signatories made three demands to the Times: stop printing what they believe to be biased anti-trans stories, hold a meeting with transgender community members and leaders to listen to their stories, and "genuinely invest" in hiring more full-time trans writers and editors. Over 180 New York Times contributors and a bevy of writers echoed the call in their own letter the same day. "As thinkers, we are disappointed to see the New York Times follow the lead of far-right hate groups in presenting gender diversity as a new controversy warranting new, punitive legislation," the letter reads, comparing today's coverage to another "era of hateful rhetoric" wherein the paper used a homophobic style guide until 1987 and diminished the HIV/AIDS crisis. "There is no rapt reporting on the thousands of parents who simply love and support their children, or on the hardworking professionals at the New York Times enduring a workplace made hostile by bias—a period of forbearance that ends today," the second letter reads.
"We received the letter from GLAAD and welcome their feedback," Charlie Stadtlander, a spokesperson for the Times, tells Vulture in a statement. "We understand how GLAAD sees our coverage. But at the same time, we recognize that GLAAD's advocacy mission and The Times's journalistic mission are different. As a news organization, we pursue independent reporting on transgender issues that include profiling groundbreakers in the movement, challenges and prejudice faced by the community, and how society is grappling with debates about care."
The statement continues, defending the Times' reporting of transgender issues: "The very news stories criticized by GLAAD in their letter reported deeply and empathetically on issues of care and well-being for trans teens and adults. Our journalism strives to explore, interrogate and reflect the experiences, ideas and debates in society — to help readers understand them. Our reporting did exactly that and we're proud of it."
This post has been updated.