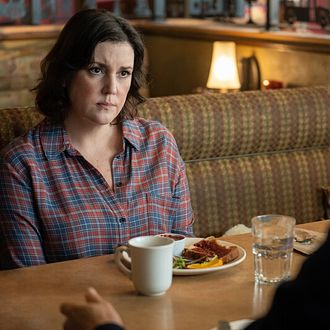 Yellowjackets
' Shauna is safe from the merger.
Photo: Colin Bentley/Colin Bentley/SHOWTIME
Update, February 1: The newly dubbed Paramount+ With Showtime is HBO-ing some more shows — that is to say, additional titles are on the chopping block after the merger of the two companies launched on January 30. Jordan Peele's Twilight Zone reboot, which ran for two seasons from 2019 to 2020, has been removed from Paramount+, along with The Real World: Homecoming, Coyote, No Activity, Guilty Party, Interrogation, and The Harper House. On the Showtime side of things, Kidding, Super Pumped, and American Rust are no longer available on the platform. The Kirsten Dunst–led dark comedy series On Becoming a God in Central Florida has also been removed. Although most of the titles have not yet been adopted by other streamers, Syfy had previously picked up The Twilight Zone, which airs on Wednesdays at 9 p.m. Let's hope the others find homes soon.
Original story published January 30 follows.
Paramount+ and Showtime — no, wait … Paramount+ Plus Showtime. Actually, add a li'l preposition and make it Paramount+ With Showtime. Despite the slightly confusing name change, the two platforms are hard-launching their merger to become Paramount+ With Showtime; the linear pay-television channel will be run by Chris McCarthy and the streaming side by Tom Ryan. The services soft-launched their partnership last year when they created a subscription bundle for both Showtime and Paramount+, but they were still marketed as separate services. With the latest news, the transition means Showtime's library, including Yellowjackets and I Love That for You, is combining with the Paramount+ streaming library and vice versa: Some Paramount+ programs are also reportedly heading to the linear channel. More details on when the services shall officially cross over as well as any new prices will be announced most likely during the Paramount town hall held the week of February 23.
However, where there's a merger, there are losses. Showtime's American Gigolo, Let the Right One In, and new series Three Women have been canceled amid the merger news. The latter has not premiered despite wrapping production and its star Shailene Woodley promoting the show. In addition to canceling American Gigolo and Let the Right One In, insiders tell Vulture there's a good chance the already-produced episodes of the shows will be pulled from the service altogether in the coming weeks. Other Showtime library titles may also be pulled in the next few months in preparation for the complete integration of Paramount+ and Showtime. Showtime cable customers may eventually be able to access more series overall, though, since the two platforms will share a common app by year's end. Insiders confirm the current Showtime direct-to-consumer offering and the Showtime Anytime app — for current cable customers — will disappear before the year is over.
Josef Adalian contributed to reporting.