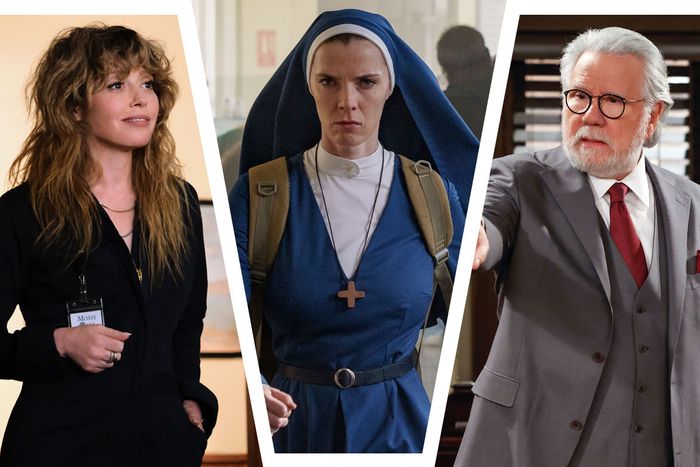 From left:
Poker
Face, Mrs
.
Davis
, and
Night
Court
.
Photo-Illustration: Vulture. Photos: NBCUniversal
As one look at its balance sheet makes clear, Comcast's perpetually problem-plagued Peacock is nowhere close to qualifying as a streaming success story: It's got a ton of red ink, has a history of frequent exec turnover, and remains significantly smaller than its major rivals. Plus, given how much the media landscape shifted in 2022 following the Great Netflix Correction, many on Wall Street question how long Comcast can continue losing billions on its big streaming bet. And yet, amid all the reasons to be skeptical about Peacock, the streamer is starting the new year with some serious signs of momentum.
Just last week, Comcast reported that Peacock had added an eye-popping 5 million paid U.S. subscribers during the last quarter of 2022, far exceeding industry expectations given the overall softness in the domestic streaming market. That winter surge capped a year that saw Peacock's membership rolls more than double, rising from 9 million to more than 20 million. Like many of its rivals, the streamer got there in part through heavy discounting — at one point offering a one-year subscription for $20 — but it's still an impressive one-year growth trajectory.
As part of the same earnings report, Comcast noted that losses at Peacock continue to mount with the streamer bleeding out roughly $2.5 billion in red ink in 2022. The culprit, of course, was the streamer's massive spending on original and acquired content. Netflix powered its way to dominance by investing heavily in originals, racking up in the neighborhood of $20 billion of debt within four years of House of Cards debuting; Peacock and other streamers have been following a modified version of the same playbook. Whether it can work for a more established media company such as Comcast and in a much different media environment is the big unknown, but the good news for the company is that Peacock's peak-TV content push is (finally) starting to pay off. Consider what's happened over just the past six weeks:
➽ Two new Peacock originals — the Rian Johnson–Natasha Lyonne collaboration Poker Face and the Alan Cumming–hosted reality show The Traitors — have been greeted by some of the best reviews and biggest buzz in the streamer's short history. And another, the comedy documentary Paul T. Goldman, has become a social-media fave (no word on its ratings performance).
➽ December's The Best Man: The Final Chapters was a big hit with the limited-series follow-up to the film franchise landing in Nielsen's top five most-streamed originals when it launched.
➽ Peacock sibling NBC debuted a reboot of Night Court that is shaping up to be the network's biggest comedy hit in years. That's great news for Peacock since the show streams there hours after airing on NBC and is proving to be a big draw for the platform — following a pattern set recently by ABC-Hulu's Abbott Elementary and CBS-Paramount+ comedy Ghosts.
➽ Peacock's 2023 slate has several other shows poised to get attention. In addition to season two of 2022 hit Bel-Air, here's a series prequel to the Ted movies from Seth MacFarlane as well as Bupkis, a new comedy starring Pete Davidson. And on April 20, Watchmen creator Damon Lindelof will gift Peacock with Mrs. Davis, a bold, bizarre, and definitely distinctive comedy-drama-adventure series almost certain to generate a strong response.
Overseeing this flurry of positive developments on the content front is Susan Rovner, NBCUniversal Television and Streaming's chairman of entertainment content. The exec spent 22 years at Warner Bros. TV — helping develop iconic series such as The O.C., Gossip Girl, Riverdale, Supernatural, Westworld, You, and Ted Lasso — before she joined NBCU in October 2020. Rovner arrived just a few months after Peacock's very bumpy launch at the height of the pandemic, and her hiring was interpreted in part as a signal Comcast execs were already worried about their new streamer's programming direction.
But between pandemic delays and the long lead times for most streaming shows, it wasn't really until last year that Rovner's imprint started being felt on Peacock content, starting with Bel-Air. The show was green-lit a few weeks before she formally joined NBCU, but she was heavily involved in its development, and until The Best Man, it was Peacock's best-ever series launch. Rovner also scored a hit last year with IP play Pitch Perfect: Bumper in Berlin, which has been renewed for a second season, and the Craig Robinson comedy Killing It (also returning). Not all of her shows have clicked: Vampire Academy came and went within three months, for example.
And yet, under Rovner, there's a sense Peacock is now consistently making shows that get noticed by both critics and viewers. Vulture recently spent an hour talking to the exec about how she's evolved Peacock's programming strategy, why comedy really is much harder than drama, whether Bravo is making too many Housewives shows, and how the different parts of the NBCU content empire she oversees work with one another.
You've been at NBC about two years now. Tell me how you're thinking about the kinds of shows you need for Peacock now and how it's different from what you rolled out in year one. And what's the vibe of your slate for 2023 and 2024?
I would say we're sort of two-thirds drama, one-third comedy, and really trying to focus on shows that we believe can move the needle and help the service expand and grow. I love all the shows that were initially put on. I think they were fantastic, quality shows. But they were probably just too soon in terms of the reach of where the service was when they came on. And my goal is to expand Peacock, bring more viewers in with content that is must-see, that you absolutely have to binge, and that people are talking about. I think Poker Face right now is a great example of that. The reviews speak for themselves. It's truly the best-reviewed show I've ever been a part of. And it's a broad, elevated, unique yet familiar show that so far really seems to be resonating and bringing people into the service.
One of my colleagues told me Peacock has become his home for prestige lowbrow TV. He didn't mean it as an insult —
No, it's not a bad thing.
Right, to him I think "lowbrow" means sort of accessible. I'm wondering what your preferred framing would be for the Peacock brand filter? A year or two from now, what do you want people to think when they think about Peacock originals? 
There is something I say internally a lot about what all our shows have in common across all of our platforms: We do entertainment that is entertaining. When you come into our ecosystem, I want you to find something that's for you, I want you to enjoy yourself, and I want you to hopefully end up staying for a long time. So I really want entertainment that truly entertains. That might sound obvious, but we're not looking to do shows that are sort of darker — that, at the end of it, you may want to slit your wrist because it was just so sad and horrible to sit there. I want you to have fun. And that fits perfectly with our Housewives franchise. That fits perfectly with Poker Face, that first perfectly with Bel-Air, that fits perfectly, by the way, with Night Court on NBC or Love Island or Traitors. For me, what all these shows have in common is that they entertain you, and we want to do them all in a premium, quality way.
I did a story on Bela Bajaria over at Netflix and quoted an agent who told me her job is to keep making shows people watch versus "snobby" shows people don't. Sounds like that's your philosophy, too? 
Yeah. I want shows people want to watch.
For the longest time, though, cable and then streaming platforms have been using a model established back in the 1980s by Grant Tinker when he took over NBC: "First be best, then be first." HBO, FX, AMC, even Netflix during its first few years all tried to stand out through critical acclaim and kudos. You seem to be saying, "We'll take great reviews but we're not looking to dominate the Emmys and Peabodys." 
I mean, awards are great. It feels wonderful when critics acknowledge you. It feels wonderful to win an Emmy or a Golden Globe or Academy Award. All that stuff feels great. But I'm equally as proud to win a People's Choice Award. I am thrilled if the fans love us. Ideally we can find shows that can walk both those lines, but we are making TV for audiences and fans. And the one thing about me is I am fan first. I love television. The only thing I love more than TV is my family. I love TV so much, I watch so much of it. I am such a fan. So I think it's really important that we do content that honors fans and that honors our viewers.
The media narrative about Peacock these last two years has been that the platform, and by extension the content, has been struggling. Even when shows get some good reviews, they didn't seem to break out as hits. Have you and your colleagues been frustrated because, even as you've been making shows you're proud of, there's been a sense until recently that it wasn't all gelling? 
I mean we're building a streaming service from scratch, and it's only been around two-plus years. It's a lot of work to build something, so I do think there needs to be a bit of patience. Now all that said, the momentum that we have right now is outstanding. We just reached 20 million subscribers. Going from the critical acclaim that we had with A Friend of the Family into Pitch Perfect, which was our best comedy launch on Peacock, into The Best Man, which cracked the Nielsen top five, into Traitors, and now into Poker Face and Bel-Air season two, the momentum feels so fantastic in this moment. So we are insanely optimistic. I personally feel really, really good that the future looks bright for Peacock.
What about the content spend for Peacock? We're seeing so many platforms talk about tightening budgets or at least slowing down. You seem to be doing the opposite: I think this might be your most ambitious year yet in terms of new releases. Are you planning to shift gears to do less soon?
This is really an intentional year of spending for Peacock. We're making a real investment in original content. But I do want to say that sometimes people mistake quality as expensive. It's possible to make an excellent, incredible show that is cost effective. For me, it's always about spending the appropriate amount of money on what the show actually needs and calls for. If there is a good reason why a show is expensive, i.e., you have to have worlds built or the cast is expensive or there are huge special effects? We are 100 percent stepping up, and we will cover those costs. We are going to be as competitive as any other service. And I have full support from NBCUniversal executives Jeff Shell and Mark Lazarus to be completely competitive. But quality shows don't have to be expensive. They don't go hand in hand. It's really about how do we make the show correctly, and not just spend money to spend money — spend it with a reason.
So in terms of shows that look pretty expensive and get people talking, I think Mrs. Davis is going to fit the bill. If you look up "big swing" in the Hollywood dictionary, it's probably there. What was your reaction when Damon Lindelof showed you the first episode? Were you prepared for how out there it is?
Well, Damon and I go very far back. He had a deal at Warners when I was there, and he is one of the most brilliant creators I've ever worked with in my life. Tara Hernandez, who is his co-creator, and I also go way back because she was an exec producer on Big Bang Theory and now Young Sheldon. I actually introduced the two of them because I thought they would get along. And I just had great faith in taking this leap with both of them, because I know how incredibly talented they are. And 100 percent: This is a big swing. For me, that's why it's both terrifying yet incredibly exciting.
One of my things that I look for when we develop is, what's not on TV? What's going to stand out in a landscape where there's thousands upon thousands of shows to look at? There is nothing like this show. Betty is phenomenal in it, and I'm really hoping that because it's so different, because it's such a big swing, because you absolutely will not be able to predict where this is going, I'm really hoping it resonates.
Do you sell it as a drama, a comedy? Or both?
Both. I really do think it's both. I think people are going to be surprised at how funny it is. We shot out of order, so I've seen every episode but not in order. I recently saw episode five and I was howling with laughter. It was one of the funniest episodes of television I've ever seen.
One of your biggest shows on Peacock is an acquisition — Yellowstone. You probably can't do any spinoffs of it, since at least for now Paramount Global is funneling all those to its own streamer. But to me it's surprising that there's not much on your development slate that has a similar vibe as Yellowstone. Are you trying to take advantage of the enormous halo that the show has on Peacock?
The one thing I always want to be careful about is imitation. I think when people imitate, you always fail. Yellowstone exists; we have it on the platform. I don't want to do another Yellowstone. I want to do something that's unique and different but will appeal to that fan base. And we are absolutely actively trying to figure out what that is. But I definitely don't want to just do another cowboy show. We don't need to do that. We have that. We have to think about what is different, what's unique yet appeals to that audience. And that is definitely something we're working on.
Is developing for those audiences different now in the streaming era than it was in the linear age? Back in the day, if you had Big Bang Theory on at eight o'clock on Thursday, you'd have Chuck Lorre do something in his style to keep audiences tuned in at 8:30. Is it less obvious how you do that for streaming, where you don't have a fixed schedule?
I think so. Obviously, on linear television, you have a lineup and you have an audience that is tuning in for live. And so you're definitely going to be looking at what feels compatible. Streaming, we don't have that same type of schedule so we don't program in the same way. But at the same time, when we bring in a fan base, we want to make sure that there's enough content that they don't tune out and they continue to spend a lot of time with us. So, for example, at Peacock, The Best Man has been a monster hit. It helped us crack the Nielsen top five. It's No. 1 with African American audiences. And now we are going to have Bel-Air coming up very soon in February. So the audience we brought in with Best Man, we are hoping that they're catching up with Bel-Air. It looks like they are, and I think they're going to love season two. So that would be an example of two compatible shows. I hope the Poker Face audience will stay around for Mrs. Davis.
You've gotten a lot of critical love for your comedies at Peacock, but they don't seem to have connected with a lot of subscribers. Is it just harder for a young streamer to get traction with half-hours, thus resulting in your pivot to more dramas? 
Yeah, comedies are a bit harder. They don't necessarily have as much urgency as something like a Mrs. Davis or Poker Face. But at the same time we love comedy, and I think if we pick the right comedies, they will have the urgency that we need. We've got Bupkis with Pete Davidson, and I think people are going to love this show so much. I'm not supposed to talk about testing, but it tested so well. I think that's a comedy that will really, really resonate with the streaming audience. And it's going to have urgency and be must-see. We're also doing the prequel to Ted with Seth MacFarlane, which is definitely not a show that could be on NBC, but it just has an urgency and fun and outrageousness. I think these shows are going to feel like loud tentpoles.
So your message is "Comedy isn't dead at Peacock."
We are 100 percent in the comedy business on Peacock. We're going to be particular and focused and really make sure that we are putting on shows that we think could go the distance and bring in subscribers. But it's alive and well. And what makes us so different and so distinct is the fact that our ecosystem is so big. We have NBC, so we're able to do the multi-camera comedies, the more linear comedies that go to Peacock next day. So they end up being both an NBC and Peacock show. Night Court is the perfect example: It's totally resonated with the NBC audience — knock on wood — and it's doing amazing next-day Peacock. That's an example of doing a comedy that's a win-win for the whole company.
Night Court is the biggest comedy hit for NBC in years, and it's from a genre — the multi-camera sitcom — that has largely disappeared from network TV. Even CBS's two biggest comedies are single-camera shows. Have you been surprised by how strong the sampling has been out of the gate?
I think when you look at the history of NBC and comedy, it is long and varied. There was a time where must-see TV on Thursday night was mostly multi-cameras. I talked to the comedy team about that: When people say legacy NBC comedies, it is absolutely The Office, it is absolutely Parks and Rec, but it's also Cheers and Friends and Night Court. It's a lot of things, and I think we have to remember that. So I really do believe the main reason Night Court has resonated — as silly as this is about to sound — is that it's really good. It's funny. It's laugh-out-loud funny. And you have two comedy legends in John Larroquette and Melissa Rauch, who are experts at this form.
Season two is a given, right?
Good news should come soon.
I want to talk about how decisions get made at NBCUniversal Television, and by extension, Peacock and NBC. So if you, Susan Rovner — the woman who is in charge of content for the company — want to order season two of Night Court, can you just do that? Or do you need to speak to Frances Berwick, who's the chairman of entertainment networks? And when it comes to more Poker Face, does Kelly Campbell, Peacock's president, make that call, or do you?
It's a great question. And it's a question we got a lot, and I know it's a new structure so sometimes it's hard to wrap people's heads around and really understand it. But I actually think the structure does work really well. And in fact I think it's our superpower.
You said what I do, but I'll say it again: I oversee all the original content across the platforms. And it's my favorite thing in the world to do — really focus on the creative aspects of the shows and help them be the best that they can be. And, on the linear side, I have two business partners. On the linear side, it's Frances Berwick, and on the Peacock side, it's Kelly Campbell. We definitely have different responsibilities and different expertise, and we work together very much hand in hand to make decisions, each bringing our expertise to the table. I will tell you it works really well. We really do work well together. I don't know what people say, but we do. And we have an enormous respect for each other. And most of the time we figure out, I think, the right solution for the company.
I talked to John Landgraf at Disney's FX recently, and he told me that what was so key to him when FX moved its home to Hulu was that FX continued to have a brand identity, and that he had control of the marketing. You don't have that. Do you not worry about overseeing marketing, or is it a matter of having trust in your partners?
No, I mean marketing is of course key. But whether or not that specific area reports into me, Frances or Kelly, we truly all work hand in hand. We all have the same goal, and that's for our original content to be successful. So from the minute — and this is honestly true — from the minute that we buy something and start developing it, we're already working with marketing and scheduling and publicity. We all try to focus and make sure that the right shows are getting the right attention.
So I have to ask about The Traitors. I don't watch many reality shows anymore, but the buzz on this show was so good, I had to check it out. And I really did become obsessed by the end of the first episode. 
You're my favorite person, Joe. Okay, continue.
Traitors is a format that was also launched around the same time in the U.K., but Peacock did something different. You decided to make half the cast reality-TV celebs, many of them from Bravo. Tell me why you went in that direction. 
We wanted to lean into what makes us unique. With Bravo and E!, we have the greatest unscripted ecosystem of any place, period, on the planet. I was the biggest Bravoholic before I ever started this job. So the goal was to lean into our stars — people that we know would play the game great like Kate Chastain — and then also bring in some other reality stars to help broaden the audiences coming to Peacock. And then it was my team's idea to bring in Alan Cumming. He is perfection, and his outfits are perfection. It just came together as one of those things that all the elements fell into place.
How is it performing on the platform?
It's doing great. It is truly our biggest launch for an unscripted competition show on Peacock. And in addition to that, the cultural relevance has been incredible.
As I understand it, the U.K. version has already started production on season two. Can we expect that there's a season two of The Traitors U.S. in the works?
I will again say good news is coming. [Editor's note: The good news is here.]
Are you going to put the U.K. version on Peacock?
Yes, we are.
I thought it was very smart of you to have the first episode of Traitors air on Bravo and USA. You funneled a natural audience to the show. Those linear networks are a promotional platform Netflix doesn't have. How are you planning to use them more to help Peacock?
It is by far what makes us most unique and absolutely is our strength. We are able to amplify shows in a way that our competitors just simply can't because we have eight platforms. It is absolutely something that we want to lean into with the right shows in the right way.
But it also means you need to keep those platforms healthy, right? You've poured a lot of resources into Peacock, but how do you make sure you keep the NBC ecosystem as powerful as you need it to be? And how do you figure out if a really compelling new show should live first on the network rather than on streaming?
So this goes to the way that my team is structured. Historically, there's always been one head of each network. We are now structured with experts in specific genres. So Lisa Katz oversees scripted across all of our platforms, and Rod Aissa and Corie Henson oversee unscripted. I think the structure works incredibly well. It allows us to put content first and means there's one stop for talent. It used to be if you were a producer pitching a show, you would have to pitch six different network heads within NBCUniversal. Now you pitch one person. That one person says, "I love this show. I believe in this content." And then we go to our brands and our brand filters and we say, "Where will this show succeed? Is this a Bravo show? Is this a USA show? Is this an NBC show?" So what we are doing is very intentional: From the moment that we buy and start developing something, we try to put that brand in mind. I think we have the best, most defined brands in the world. And it is absolutely our goal to keep them as healthy as possible.
So what is the NBC "brand filter" in 2023? To me, as a viewer, it's sort of become "younger CBS," right?
Oh, that's interesting. Yeah, I'll take that. I view the NBC brand as actually helping expand our entire Peacock offering. So, for me, NBC is big, broad, relatable — the reach is the biggest of all of our platforms. Because it is linear, we want things to have more of a laid-back feeling. Meaning it's okay if you miss an episode; you still are welcomed in, you still can catch up. We also do a lot of live events and competitions like The Voice and AGT that also have more of an urgency, where you want to be a part of that conversation that night. And our shows are more repeatable on NBC. The truth is the shows that are on NBC, hopefully, make 100-plus episodes and become the library shows on Peacock. We really do keep that in mind as we program NBC.
I think the deal you did last year to put Hallmark content on Peacock, both live and via a short-window VOD deal, was incredibly smart. I know that was the work of Kelly, but how has that programming been doing for Peacock? And are you planning to develop more shows which speak to those Hallmark viewers?
The Hallmark deal is a phenomenal deal, and I think it was so smart of Kelly and the team to bring that into Peacock. But I don't know how much we have to lean into more of that. As I said earlier, I don't want to repeat what we already have. I don't want to imitate. The good news is we have the best Christmas movies in the world now, so we're covered. But we definitely can learn from what is the audience that we're bringing in and what other original and distinct content would they want so that they stay. So, for sure, we're doing all of that.
So is Scott Bakula going to be in Quantum Leap ever?
The door is wide open if he wants to step through. Scott is incredible. We love him. We would love, love, love to have him back if he wanted to be back.
He has indicated he's not interested, but I've heard you're pretty persistent when you want something.
I definitely don't like the word no. It's not one of my favorite words.
So much of streaming these days is about taking existing IP and expanding it. You've done that with some of your Universal movie franchises, and also the Real Housewives universe. But I remain shocked there is no version of Law & Order that is exclusive to Peacock. Would it just cost too much money, since Dick Wolf does not come cheap?
First of all, we want to support Dick in any vision that he has. We are keeping NBC programming at ten o'clock for next season. The Chicago and the Law & Order nights are incredibly successful, and they do go next day on Peacock. They drive a ton of sign-ups and engagement. So we're very happy right now with the structure of how it is. In the future, if Dick wants to move one of the shows to Peacock, we would love it. I mean, we're going to be supportive of Dick's vision.
And what about another spinoff from either of his franchises. Is anything in the works?
Never say "never," but not right now.
Staying on the franchise front, the state of the Bravo universe is very strong right now. You've built a lot of different shows which have spawned multiple spinoffs and extensions. But it's also a lot. Do you now worry about brand fatigue? 
We definitely worry about brand fatigue. I think our offering right now on Housewives is fantastic. I think we're in a really good place. So at this moment, we're not looking to add more. We're going to lean into what we have. Our Peacock exclusive, The Real Housewives Ultimate Girls Trip, is doing fantastic. Mashing up and taking everyone's favorite housewives and having them go on a trip together has been enormously successful. We are leaning in and doing more of those. But right now I think we're in a great place with the franchises that we have.
Last question: What's the show we should keep an eye on for the second half of 2023?
I'm going to put Twisted Metal out there. It stars Anthony Mackie. It's based on a Sony PlayStation game. It's totally along the lines of Deadpool but really specific. I think it may not be on people's radar yet ,and it's really special.
This interview has been edited and condensed for clarity.