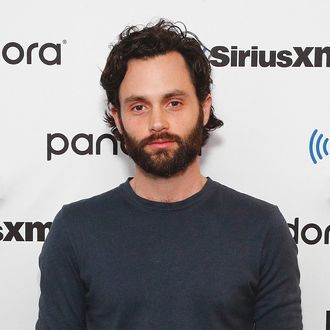 Photo: Astrid Stawiarz/Getty Images
No more sex for You — or at least less of it, anyway. In a recent episode of his podcast, Podcrushed, Penn Badgley explained that there's a reason he does fewer sex scenes in the fourth season of his Netflix serial-killer show. "Fidelity in every relationship, and especially my marriage, is important to me," Badgley, who married Domino Kirke in 2017, said. "And, yeah, it just got to a point where I didn't wanna do that." He noted that he doesn't want to have a career where he's "just always a romantic lead" but also wondered if deciding to step back from intimate scenes might negatively impact his career. "I mean, you know, think about every male lead you've loved. Are they kissing someone? Are they doing a lot more than that? It's really not my desire to," he said.
Badgley said he initially wanted Joe Goldberg's bedroom scenes "to go from 100 to zero" but knew that might not be realistic. "I signed up for this show. I know what I did," he acknowledged. "You can't take this aspect out of the DNA of the concept, so 'How much less can you make it?' was my question to" showrunner Sera Gamble. According to Badgley, Gamble appreciated his "directness" and responded positively to his request. The show ultimately "came back with a phenomenal reduction," he said. If you want to see for yourself how much you don't see, part one of You season four is now streaming on Netflix.