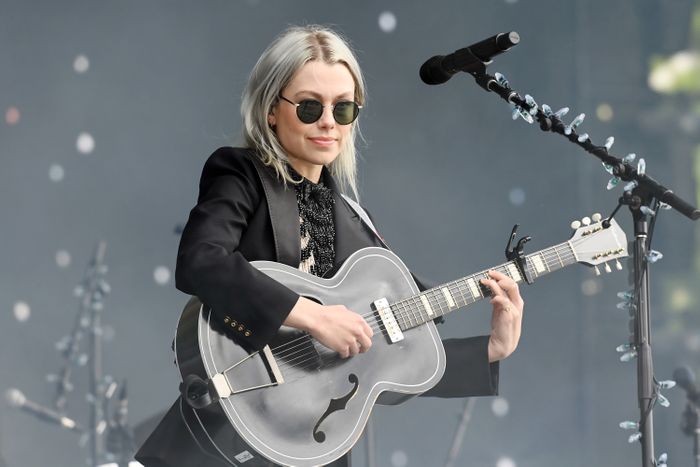 Phoebe Bridgers playing her Reuben Cox–designed guitar.
Photo: Dave J Hogan/Getty Images
In 2010, photographer Reuben Cox moved to Los Angeles to start Old Style Guitar Shop. In the years since, the instruments that he continues to repair and sell have come to define the sound of the L.A. indie-folk scene and beyond, heard on songs by Boygenius, Taylor Swift, and Olivia Rodrigo.
Reuben's guitars are Frankenstein-esque creations, cobbled together from spare parts and neglected guitar bodies found in flea markets and estate sales. The sounds that these make are as eccentric as their source: The strings are laid on top of Reuben's signature, a rubber bridge.
"It deadens the strings and it sounds a lot like a pizzicato electric violin," says producer and songwriter Blake Mills, who prototyped Reuben's first rubber bridge. Reuben was at "Home Depot in the plumbing department and there are these chunks of rubber, which were gasket blanks for installing toilets. I was like, Let's give that a try." Mills says he was surprised that the prototype ended up a "bull's-eye"; he used it to record the 2017 Perfume Genius single "Slip Away" and has played it "on every record I've worked on since."
Other L.A. players heard that Mills record and started to chase the tone coming from Reuben's guitars. After Mills performed a show at Old Style, the songwriter Madison Cunningham got her hands on one of the rubber-bridge guitars. She says it's the perfect compliment to her voice: "It stays out of the way in terms of frequency, it kind of rumbles below the surface." Cunningham recently performed her rubber bridge live on stage at the 65th Grammys, where she won Best Folk Album.
On any given day at Old Style you might bump into producers, songwriters, and session musicians looking for Reuben's bespoke sound. That's how it ended up on Phoebe Bridgers's Punisher and on Swift's folklore and evermore (via the National's Aaron Dessner). Musician Andrew Bird says, "It seemed like something that was missing from the L.A. landscape; it's like a clubhouse."
The mythos of the rubber-bridge guitar has turned Reuben into a local celebrity and put Old Style at the center of Los Angeles's indie-music scene. Most days he sits at his workbench toiling away at these old instruments. "It's the highest compliment if someone takes your instrument and it inspires a song," he says.
In this episode of Switched on Pop, host Charlie Harding explores that sound and the man behind it all.