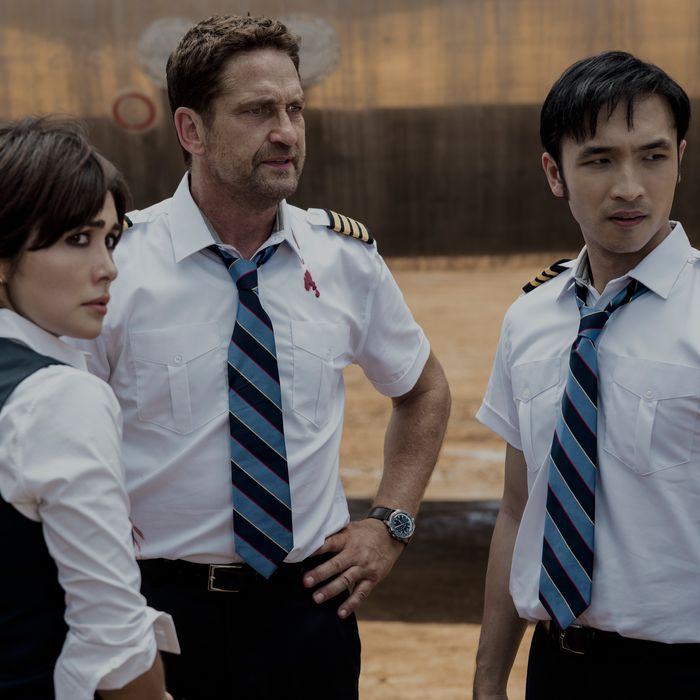 Daniella Pineda, Gerard Butler, and Yoson An? My heart takes flight.
Photo: Kenneth Rexach/Lionsgate/Kenneth Rexach/Lionsgate
I loved Plane. In it, a Scottish pilot — an extremely haggis-y Gerard Butler — successfully crashes a plane into a very contested part of the Philippines and must fight his way out to save his passengers. It's a surprisingly gritty movie! You realize watching it how overproduced and stylized most action movies are, as Brodie (Butler) and his new friend, accused murderer Louis Gaspare (Mike Colter), sweat and bleed their way to freedom with a hot and talented (and international-box-office-appealing) cast of dozens. We've got everyone from a Chinese New Zealander Kung Fu black belt to a Swedish Indian Victoria's Secret model.
Gerard Butler has also never looked hotter. And, because this movie rocks, we're getting a sequel, Ship. It will star the immense and immensely handsome Mike Colter, who has only been hitting the gym since his Lemond Bishop days. The opening gambit of Ship is itself a spoiler, but it's safe to say that someone who gets off the island clearly does so by boat-oriented means. Violence ensues. But what happens after Ship? Sure, this franchise has legs — but it's also got wheels.
Train
We've been to Busan. We've sweated on Pelham 123 and eaten crickets on the Snowpiercer. But have we ever seen a burly rail worker and a union shop steward face down an evil corporation intent on poisoning an entire town in Ohio? It's time. Train: He'll train capitalist dirtbags to have some respect or at least not annihilate entire towns. Hmm, that tagline needs some workshopping.
Octagonal Object
Right now, a million producers are pitching something, anything, about a flying octagon. Why is it an octagon! What the hell is going on? Why is the sky so full of things?
Dirigible
The Koyaanisqatsi of the franchise, this is simply a meditation on American landscape from the upper troposphere, as a sky-prison slowly deflates. It's a metaphor! Don't worry about it!
Tesla
One man dares to fight his way through an inability to steer. Michael Mann directs.
Mule 
It's a pun! Daniella Pineda, on the back of an equine hybrid, stars as a woman who must defend her family, which has been pressed into drug smuggling. Veronica Osorio is the evil drug queenpin. (Basically an homage to Death Proof but with animals.)
Bike
An ancient Paul Reubens takes one last terrifying and villainous turn opposite Robert Pattinson in this crossover into the Batman universe, as Nirvana's "Sliver" plays over and over. There will be an Oscar with Pee-wee Herman's name on it.
In conclusion, see Plane today. Your brain will never feel smoother or more well-loved. Need to forget your troubles? Plane can do that for you.