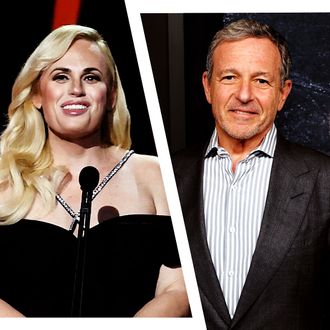 Congrats to the happy couple (not pictured) and Bob Iger (mentioned)!
Photo-Illustration: Vulture. Photos: Getty Images
America's favorite Gumbie Cat, Rebel Wilson, got engaged this weekend to her girlfriend Ramona Agruma. She announced the happy news in an Instagram post, the caption of which mentions her fiancée literally zero times but does manage to pull out a huge thank you for Disney CEO Bob Iger. "Thank you @tiffanyandco for the stunning ring and to Bob Iger and the incredible team at Disneyland @disneyweddings for pulling off this magical surprise!" reads the caption. The post shows Wilson and Agruma each down on one knee in front of Sleeping Beauty Castle in Disneyland. But the most important person in the engagement — Iger, apparently — is sadly not in the engagement pics.
What exactly did Iger do to warrant the shout-out? Is he just out of frame, hanging from a tree limb, showering the couple with pale-pink rose petals? Did he let them into the park for free even though it was already booked because President's Day weekend gets busy there? Did he reopen Splash Mountain so the happy couple could have one last go-around with the racist animatronics? Iger really should be the one thanking Wilson for the SEO, because headlines about his return to the nation's highest office (the Disney C-suite) have been negative as of late. Between his budget-cuts announcement, a return-to-office memo that has employees fuming, and censoring a Simpsons episode featuring a negative joke about China on Disney+ Hong Kong, playing a part in the engagement of the actress best known for Pitch Perfect is maybe the best press he's had.
Meanwhile, Wilson has not let her marriage proposal get in the way of what really matters to her in the season of romance: the launch of her new dating app, Fluid. Wilson announced the app on Valentine's Day and describes it as "the first dating app where you don't have to actually define yourself or tick a box to say 'I'm straight, I'm gay, I'm bisexual,' and you don't have to describe what you are looking for." Ah yes, an app that matches you for compatibility based on … literally zero information about what you're looking for on the app. Three-dimensional chess. Wilson's Instagram Stories following the engagement announcement have all been press for the dating app, and she's been promoting it with posts where she writes things like "Here I am …spreading FLUID."
Anyway, mazel tov to Rebruma (celeb-couple name) and ol' Bobby Iges!