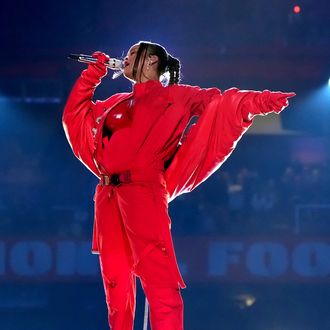 Rihanna, CEO of
R9
.
Photo: Kevin Mazur/Getty Images
Rihanna's Super Bowl LVII performance brought the biggest sliver of hope the Navy has had in years for a new Rihanna album. And while the only new material she debuted at that performance was her second pregnancy, now, even the woman herself agrees it's time for something. "I want it to be this year," she told British Vogue of her next album in a new cover story. "Like, honestly, it'd be ridiculous if it's not this year." Sure, fans have been saying just that for years. But hey, just a few months ago, Rihanna was shooting down hopes of new music at the Super Bowl, so this is progress! The story confirms what Rihanna has long said, that she's consistently recording music — but not releasing it. "Your taste changes, your vibe changes," she explained. (RiRi did release two songs last year, her contributions to the Black Panther: Wakanda Forever soundtrack, including Oscar nominee "Lift Me Up.")
Really, it's not even the songs that she's itching to drop — it's the music videos. Unlike someone. "I need the right background music with the visuals," she added. "I can't just go shoot a video to me talking." Sponsored by Fenty, of course. Whatever it takes to get R9.