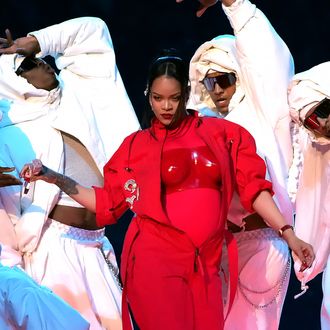 Photo: Getty Images for Roc Nation
Rihanna told CBS NFL Today's Nathaniel E. Burleson that she'd be having a very special guest during her halftime show. Little did we know she meant a dang baby bump. For the brief time between Rihanna's Super Bowl halftime show and her reps' official pregnancy confirmation, the internet was aflame with baby speculation. Did she touch her belly during "BBHMM" or "Diamonds"? Did the camera cut away too soon? Why is there one gesture that we count as pregnancy confirmation? Was that crotch grab a secret message? That's weird, right? Regardless, reps for Rih confirmed she is expecting her second child. And while we have no idea how far along she is, she did warn us all earlier this year not to be expecting a new album.
Besides the baby announcement, Rihanna plugged a Fenty compact, did hits ranging from "Work" to "Run This Town," and wore a custom red jumpsuit and bra plate under the second-biggest puffer coat in football history. And A$AP got it all on his phone.