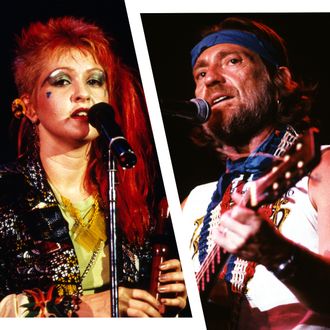 Photo-Illustration: Vulture. Photos: Getty Images
Suspicions confirmed: Rock is just a vibe now. The Rock and Roll Hall of Fame has unveiled its nominee list for the 2023 class, with 14 artists representing every range of the musical spectrum: Kate Bush, Sheryl Crow, Missy Elliott, Iron Maiden, Joy Division/New Order, Cyndi Lauper, George Michael, Willie Nelson, Rage Against the Machine, Soundgarden, the Spinners, A Tribe Called Quest, the White Stripes, and Warren Zevon. This shortlist will be further cut in May to reveal the official induction class as well as the location and date of the ceremony.
Now for some celebratory data: In a similar trend as last year, a solid chunk of the nominees are on the ballot for the first time (Crow, Elliott, Joy Division/New Order, Lauper, Michael, Nelson, the White Stripes, and Zevon), while two acts, Elliott and the White Stripes, are being recognized in their first year of eligibility. Bush, who has seen her popularity skyrocket due to the recent season of Stranger Things, had been previously nominated three times along with the Spinners. This will also be the second attempt for Soundgarden, A Tribe Called Quest, and Iron Maiden, and the fifth for Rage Against the Machine. Please, Jack White, if you're reading this, let us know what you're really feeling.
Earlier this week, the Rock Hall announced it would be pivoting to a new ideology when it comes to deciding eligible artists for induction. While the institution has generally favored a specific era of male-dominated, album-oriented classic rock, its new goal is to "celebrate the sound of youth culture and honor the artists whose music connects us all" because "rock and roll is a spirit that is inclusive and ever-changing." This change in mission was already evident in last year's induction class, when Dolly Parton and Lionel Richie — who aren't textbook definitions of rock but, yes, universally successful musicians who "connect us all" — were inducted alongside more obvious acts like Duran Duran and Judas Priest. Don't worry, we're already convening our anonymous voters for their thoughts.