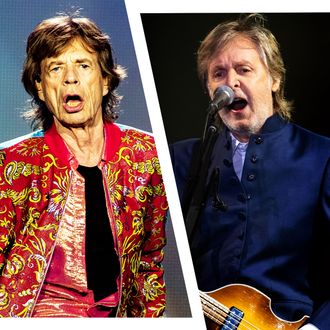 The guys. The dudes. You know 'em.
Photo-Illustration: Vulture. Photos: Getty Images
For their latest project, the surviving Beatles have been helping out an old "blues cover band" on their new music. Variety reports that Paul McCartney and Ringo Starr have been recording with the Rolling Stones, a rare union of two of the biggest forces in rock-and-roll music — despite Macca's persistent ribbing of his rivals. McCartney cut bass for a new Stones album, per sources, while Starr got behind the drum kit; it's not clear if they worked on the same songs. The architect behind the collaboration may have been Andrew Watt, the Grammy-winning producer who's become a favorite of the classic-rock set. Watt previously worked with McCartney and has been known to bring musicians together, like getting Ozzy Osbourne on a Post Malone song. It'd be the first time the Stones got some Beatles action in over 50 years, since McCartney and John Lennon sang backup on "We Love You" in 1967.
The new collaborations are reportedly close to being mixed and may be on a rumored new Stones album this year. On top of it all, a Stones album would likely feature some of the final recordings by Charlie Watts, the band's drummer who died in 2021, as Mick Jagger and Keith Richards previously told the Los Angeles Times. It'd be the first Rolling Stones album since 2016's Blue & Lonesome and possibly the first album of original music since 2005's A Bigger Bang. And if there's somehow any more rock history to be made, we'll keep you posted.