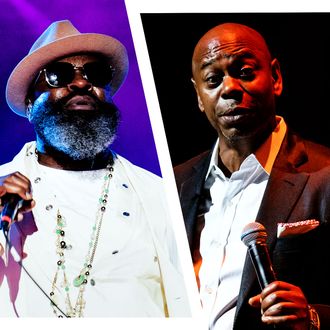 Just a chill, totally normal weekend of music.
Photo-Illustration: Vulture. Photos: Getty Images
Fresh off the goodwill of holding down the Grammys' 50th anniversary of hip-hop tribute, the Roots seem ready to squander all of that away with their annual festival. That's because this year's Roots Picnic looks like a convention for some of the most problematic, loudest people in hip-hop. It starts right up top, with Dave Chappelle, who will perform what's marketed as "a seismic, first-ever comedy set of this magnitude" backed by the Roots. Wonder how many anti-trans jokes they'll let him make? Who better to share in headlining than Diddy, He Who Un-Cancels the Canceled, who will also perform with the Roots. And there's Lil Uzi Vert up top too, less than two years after being accused of assaulting an ex. (We would crack a joke about how late headliner Ms. Lauryn Hill is going to be, or how she'll keep playing The Miseducation anniversary sets through the end of time, but we welcome her against the rest of this lineup.)
Things are pretty tame further down the lineup, with Ari Lennox, City Girls, Lucky Daye, Syd, and GloRilla, along with a "Live Mixtape" set from J.Period featuring Busta Rhymes, Eve, and the Roots' Black Thought that looks promising. But then we get to … the Podcast Stage. As cursed as that sounds on its own, it's even more in practice. Aside from usual suspects for that sort of thing, like Charlamagne tha God and Angela Yee, there's DJ Akademiks, one of the chief traffickers of misinformation around the Tory Lanez trial, and Talib Kweli, who was suspended from Twitter for a targeted harassment campaign against one woman. Impressively, between Akademiks, Charlamagne, and Yee, all three of the podcast headliners stood by Lanez, who was found guilty on all charges in shooting Megan Thee Stallion. You don't book a lineup like that by accident. If you're willing to wade through the Shade Room comment section brought to life, the Roots Picnic takes place June 2-4 in Philadelphia.