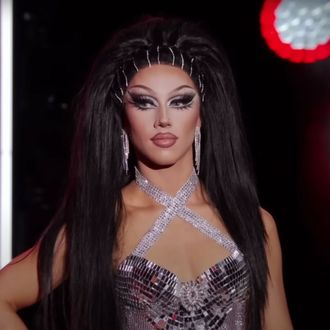 Pepper of Salt and Pepper,
not
to be confused with Salt-N-Pepa.
Photo: RuPaul's Drag Race/YouTube
The 200th episode of RuPaul's Drag Race, "The Crystal Ball," like every episode of Season 15 so far, went by in a blur. This season's 44-minute episodes often whoosh right past things like werkroom walkthroughs and judges' critiques, which in seasons past made for some of the most iconic moments of the show. Producers of yore managed to make all of that work in an equally short time slot, but now they use their limited time to prioritize things like tragic backstories, raising awareness about important issues at the makeup mirror, and low-energy RuPaul "dance" breaks.
Lest you think this season's queens just aren't giving the editors much to work with, it sounds like they're leaving pure reality-TV gold on the cutting-room floor. In an Entertainment Weekly interview from February 27, last week's eliminated queen, Spice, says she did a spontaneous rap on the main-stage after being told to sashay away. "Before I walked off and trotted away, I was like, 'Ru, I never got to do my little rap for you,'" Spice spills. "And she was like, 'Baby, we'll hear it on iTunes before it comes out.' Out of nowhere, I started doing my rap … They were dying of laughter. All the girls were like, 'That was the best exit, that was iconic …'"
Why would they cut that out? It would have been a perfect ending to Spice's story arc through the season: going from annoying the judges as a duo with her twin sister, Sugar, to seemingly winning over and befriending her fellow queens (Anetra saved her; Mistress was amused with her; the girls cheered for her during her final lip-sync), to doing one last strange, tone-deaf thing that doesn't read as funny to the judges, oh, at all. When a queen does a small thing that messes with Ru's preferred flow, it's like a gift to the producers. Imagine cutting all of Tammie Brown's spontaneous outbursts of brilliance! Whether Ru and Michelle were chuckling despite themselves or staring daggers, it would have been a moment regardless. So release the Spice rap!
Also in this interview: Spice reveals that "my dumb ass didn't even know what a sniper was. I thought it was some sort of scissor, like, to get rid of something." Are the kids okay?